You're finally taking the plunge.
Playing hockey is one of the most incredible sports… once you start playing… It's hard to stop.
One major part of starting hockey is finding the right gear.
And that includes picking out the right hockey stick.
Well, you've come to the right place.
In this article, we're going to go over the 3 best beginner hockey sticks for adults.
Let's dive right in.
The Warrior QRE 10 Silver Grip Senior Hockey Stick is our top beginner hockey stick for adults in 2023.
If you're wanting an all-around performance skate that's easy to get a shot or a pass off, then this is a great choice.
Pros
Very lightweight
Great accuracy 
Nice and responsive for stick handling
Good durability
Great for a heavy shot
Cons
Not the cheapest stick available
A bit too lightweight for some people
The Warrior QRE 10 Silver Grip is our best beginner hockey stick for adults.
This hockey stick is a high-performing stick with great durability—perfect for newer hockey players who need a reliable stick.
Touted as one of the "quickest shot releases on the market", the Warrior QRE loads and releases energy quickly and powerfully.
This is great for beginners who are still working on building up power in their shots—giving them an advantage for quick release-shots. It's also great for those quick passes up the ice.
It features a responsive blade that's nice and stiff, allowing you to get a good feel for the puck at all times.
The Warrior QRE 10 was built with Minimus Carbon 1500D—a strong, extremely lightweight, unidirectional carbon design. It makes the shaft of the stick super lightweight yet still very strong.
The hockey stick features Fuelcore+ technology—a lightweight polymer blade core. This helps make your shots pop easily. Plus, the Fuelcore+ helps reduce the breakdown of materials, allowing you to get a longer shelf life out of the stick.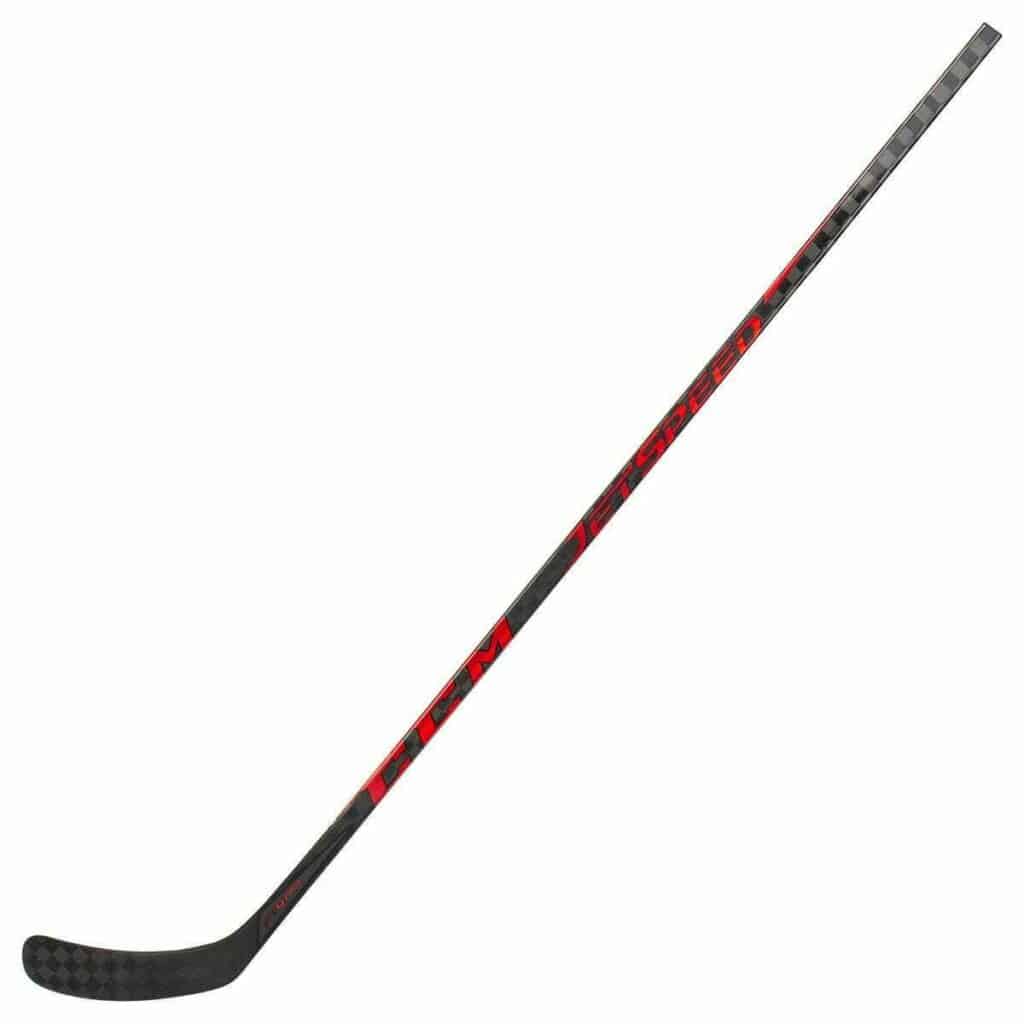 Our runner up for the best beginner adult hockey stick is the CCM Jetspeed FT4 Pro Grip.
This hockey stick nearly took first place, as it offers great durability and is used by 10% of the NHL.
Pros
Great durability for a long-lasting stick
Quick release
Tons of pop
High performance
Used by hundreds of NHL players
Cons
Top-tier pricing
Hybrid kick point takes a bit of getting used to
Our runner up for beginner hockey sticks for adults is the CCM Jetspeed FT4 Pro Grip.
What makes the Jetspeed unique is the "stiffness bump". This is a stiffened section on the shaft that creates a sort of hinged effect. It's created with soft sections above and below the hinge, allowing them to flex independently.
This means it's much easier to flex the stick and get a shot off. You'll get a quick release shot when you need it like when you're up close in front of the net. Or, if you want to make a bigger power shot from outside, the stick adjusts for that. 
It gives you the power, quickness, and accuracy which is perfect for those new to the game.
The Jetspeed FT4 blade includes CCM's hollow core with woven carbon fiber. This helps reduce the weight of the blade for a more balanced feel.
Plus, it gives you a big pop when taking a shot. 
The blade is also quite durable—featuring a lightweight blade that offers a great feel, and consistency when moving it around on the ice. The blade also has a textured finish allowing you to grip the puck a bit better which is great when you're learning how to stickhandle. It's handy when you're carrying the puck up the ice, which can prevent you from losing it.
The shaft of the Jetspeed FT4 Pro includes rounded corners, double convex top and bottom, and double concave sidewalls.
The shape gives your hands better control while stickhandling while preventing the shaft from twisting when taking a power wrist shot or slap shot.
The tacky grip coating on the shaft helps you lock your hands, giving you a sturdier grip on the stick and more control during a game.
If you're looking for a budget hockey stick, then the Bauer Vapor X Grip Senior Hockey Stick is one of the best choices on the market.
Bauer is one of two major hockey brands (the other being CCM) and they make incredible hockey sticks. If you're wondering whether you should get a Bauer or CCM stick, then check out this article I wrote comparing Bauer and CCM hockey sticks (so you know what one is best for you).
While it isn't a high performance stick, it's a good all-around hockey stick for anyone looking to get started playing hockey.
Pros
Budget-friendly
Good all-around stick
Lightweight for budget hockey stick
Good durability for the price
Cons
Not the highest performance
The Bauer Vapor X Grip Hockey Stick is one of the best beginner hockey sticks for adults on the market.
This budget-friendly hockey stick was created for recreational hockey players.
It's a decent starter hockey stick for those who want a versatile stick that only weighs 515 grams.
For the shaft, dimensions rounded corners, straight sidewalls that gives you a really nice comfortable feel in your hands.
Bauer built this stick using their Fuse 2-piece construction with unidirectional carbon fiber.
Compared to previous recreational hockey sticks, it's higher quality, giving any new hockey player an enjoyable shooting experience.
It features a tacky grip that makes it easy to keep a firm grip on the stick which is beneficial for newer players who need to focus on hand strength.
The blade features bridgecore technology that uses reinforcements through the center of the blade. This gives you much more accuracy with your shorts. Plus, it gives you better durability.
Overall, the stick is very comfortable, responsive, and accurate, making it perfect for learning to pass, shoot, stickhandle, and more.
The biggest downside is that it's a bit stiff, and doesn't offer the same performance as a mid to top-tier stick like the choices above.
Nevertheless, the Bauer Vapor X Grip Senior Hockey Stick is a great beginner stick for adults that offers great value for the price.
Sources
https://www.hockeymonkey.com/warrior-hockey-stick-covert-qre-10-silver-gr-sr.html
https://www.purehockey.com/product/ccm-jetspeed-ft4-pro-grip-composite-hockey-stick-senior/itm/45387-41/
https://www.hockeymonkey.com/bauer-hockey-stick-vapor-x-gr-sr.html