The average height of an NHL player is just over 6 foot 1 inch (1.85 meters) tall.
Does that mean that is the best possible height?
Not necessarily. In the NHL, the shortest player is 5 foot 4 inches (Nathan Gerbe) while the tallest player is 6 foot 9 inches (Zdeno Chara).
If you're wanting to understand how your height stacks up to the best in the world, then you've come to the right place.
In this article, we'll cover what the ideal hockey height is, and insights into what your height means for your game.
Here's What the Best Height is For Ice Hockey:
The best height for ice hockey isn't objective. However, the best in the world play at an average height of 6 feet 1 inch (NHL). Naturally, taller players are slower, but can hit harder and they have more power. However, shorter players are faster and are much more agile.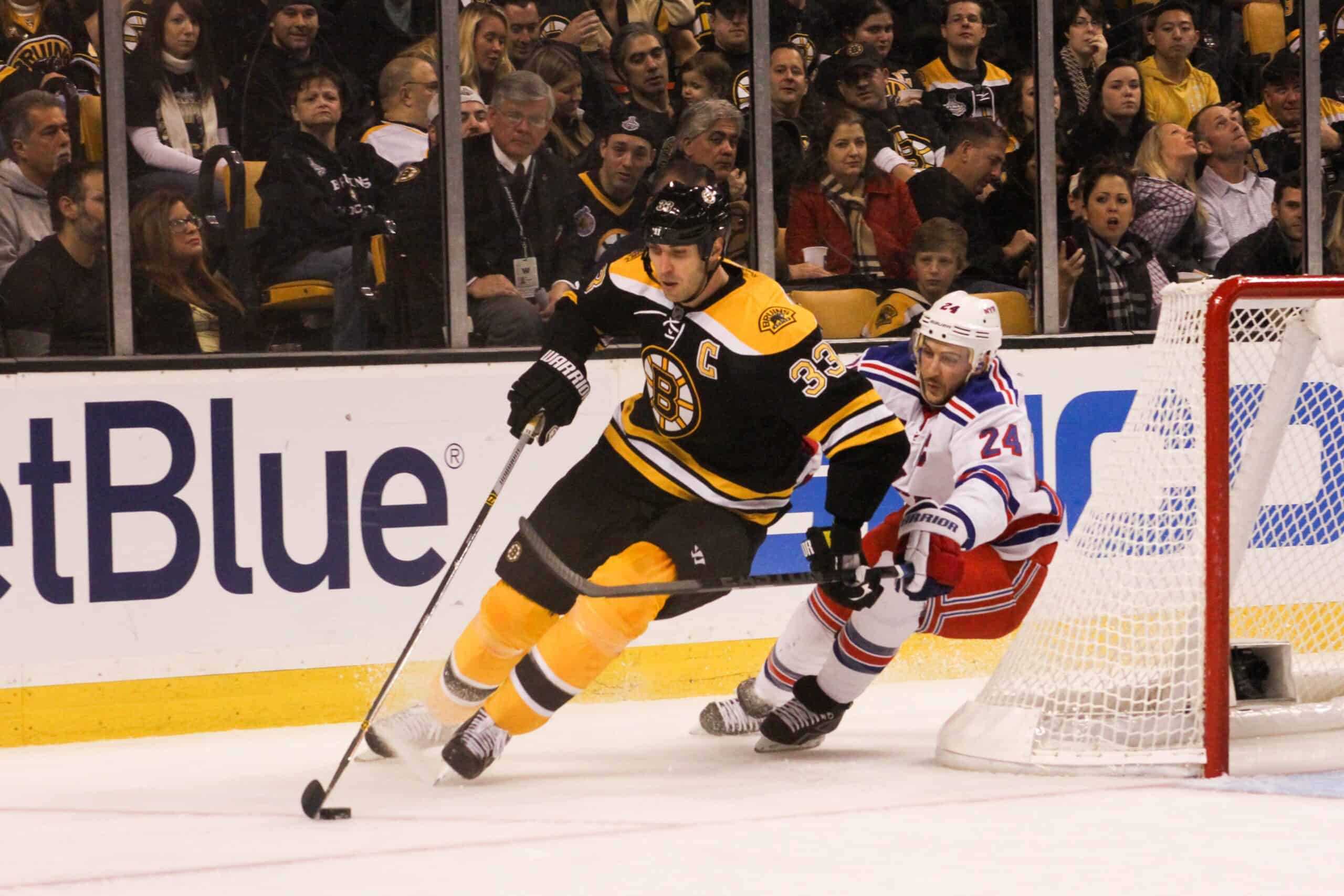 Does Height Matter in Hockey?
Height matters to some degree in ice hockey.
For instance, we know that the average NHL height is just over 6 feet tall.
That's a decent litmus test to get an understanding of how tall the best in the world are. However, height isn't everything.
If being taller meant being better, then the taller you are the better you are, right? In that case, Tyler Myers at 6 foot 8 inches should be 2nd best in the league (next to Zdeno Chara).
However, while he's a decent player, no one would argue he's the best—or even close to it.
Advantages of Being a Tall Hockey Player
There are a few advantages to being a taller hockey player, some of which are pretty clear:
1. First of all, since you're taller, you're most likely going to be more powerful. That means powerful on the puck, hard slapshots, and big hits.
2. Secondly, since you're taller, you have better reach. This means you have better potential for poke-checking opponents (also beneficial as a goalie) and taking away the puck.
With those two main advantages, taller hockey players make great defensemen. 
A few examples of highly skilled tall hockey players include:

Zdeno Chara (6 foot 9 inches) — Defenseman

Victor Hedman (6 foot 6 inches) — Defenseman

Devan Dubnyk (6 foot 6 inches) — Goalie

Patrik Laine (6 foot 5 inches) — Left Wing
Advantages of Being a Short Hockey Player

Let's dispel a myth immediately—yes, short people can play hockey.
In fact, there are a few advantages to being shorter:
1. First, your speed is a major factor. Since you have a lower center of gravity, you're able to pick up the pace much quicker, giving you great acceleration.
2. Second off, your agility is much better than taller players. Your ability to stop and go, and your edge work typically make for a great skater.
With those two main advantages, shorter hockey players make great wingers.
A few examples of highly skilled short hockey players include:

Alex DeBrincat (5 foot 7 inches) — Left Wing

Mats Zuccarello (5 foot 8 inches) — Right Wing

Cam Atkinson (5 foot 8 inches) — Right Wing

Cole Caufield (5 foot 7 inches) — Right Wing



What's the Ideal Height For an NHL Goaltender?
The average height for an NHL goalie has increased over the years. In fact, the median height right now is 6 foot 2.5 inches. However, starting NHL goalies have been getting bigger over the past 20 years.
The ideal height for an NHL goaltender is about 6 foot 3 inches or taller.
The main advantage of being taller as a goalie is the equipment size.
While it's important for goalies to be athletic and agile, the trend for goalies right now is to be bigger and wider.
Bigger goalies don't necessarily have to be as agile since they tend to cover more of the net by default. Their ability to respond to shots or even deflections can be done with a minimum amount of movement.
A good example of this is Andrei Vasilevskiy who sits at 6 foot 3 inches. He won back-to-back Stanley Cups with the Tampa Bay Lightning in 2020 and 2021, walking away with the Conn Smythe trophy in 2021 as playoffs MVP. He also won the Vezina award in 2019.
Between 2012 and 2021, the average height of the Stanley Cup winning starter goalie was 6 foot 2.3 inches.
Want to learn even more about the advantages and warnings of goalie height in hockey? Check out the full blog post I wrote on Hockey Goalie Size here.
How Tall Do You Need to Be a Good Hockey Player?
Size isn't everything when it comes to hockey. However, it's helpful to understand where you rank in height compared to other hockey players. The average NHL player is 6 feet 1 inch tall.
If you're wanting to make it in professional hockey, it would be advantageous to be close to 6 feet. However, even if you're under 6 feet, you could still play professionally.
It's important to note that it's rare for an NHL player to be under 5 foot 9 inches—as there are only a handful of active players under that height.
It may be harder to be picked up by scouts if you're looking to compete at a high level under 5 foot 9 inches. However, it's not impossible.
And, if you're looking to simply play at an intermediate level or in a recreational league, then you don't need to worry at all about your height.
The most important factor to being a good hockey player is hockey sense and overall skill. If you understand the flow of the game and you're committed to building your skills, you'll be successful.

One of the most fundamental building blocks of developing your hockey skill is your ability to follow the puck. I wrote an article all about how to properly follow the puck so you can watch, understand, and play the game better.
How Accurate Are NHL Player Heights?
The player heights listed by the NHL should be taken with a grain of salt. There have been a few different inconsistencies and inaccuracies among NHL players' heights.
For instance, for a number of years, the NHL listed Patrick Kane as 5 foot 11 inches, but USA Hockey listed him as 5 foot 10 inches. This has since been updated, however, there are several discrepancies with professional hockey players' heights
Even players know about it (and joke about it).
At the start of this clip, Brendan Gallagher asks Alex Galchenyuk, "How tall am I?"
Galchenyuk responds "Like on NHL.com or in real life?"
This isn't strictly an NHL-thing either. Many professional sports teams will have different methods of listing players' heights (i.e. skates on/off, shoes on/off, rounding methods, etc.)

Can You Play Hockey When You're Short?
Yes, you can play hockey if you're short. If you're playing competitive hockey, there may be a bit of an uphill battle to go head to head with taller players. However, there are shorter players who have excelled in the game of hockey.
Martin St. Louis is an excellent example of a short player who exceeded everyone's expectations. At the peak of his career, Martin St. Louis—sitting at 5 foot 8 inches, won the Art Ross Trophy with the most points in the 2003-04 NHL season. But, he didn't stop there.
Fast-forward 9 years later to 2012-13 and St. Louis wins the Art Ross Trophy again with the most points in the league as one of the shortest players. On top of that, he did it as a 37-year-old, breaking a record for the oldest player to win the Art Ross Trophy.
So, yes, short players can play. Marty St. Louis proved short hockey players can compete—since he was the best player in the world at the time.
What is the Average Female Ice Hockey Player Height?
The average height of a female ice hockey player is 5 foot 6 inches. This is based on the 2022 Team USA Women's Ice Hockey roster.
The average height of a female hockey forward is 5 foot 6 inches; defenseman is 5 foot 7 inches; goalie is 5 foot 6 inches.
Looking for more answers to the most common hockey questions? Be sure to check out our other popular blog posts: Is There a Size Limit for Hockey Goalies and Why Is Icing in Hockey Bad.
Sources
https://teamusa.usahockey.com/page/show/2664633-patrick-kane
https://teamusa.usahockey.com/2022olympicwomenroster