Wondering who the best ice hockey player in the world is?
Well, in this article, you'll learn exactly who it is.
Plus, we'll also share with you the complete top 10 list.
Now, before I get started on the list…
I already know that you're going to roll your eyes at specific player rankings.
You'll think some players are ranked too high—and some are ranked too low.
And of course, you're likely going to notice that one of your favorite players isn't on this list.
As a Canucks fan—if I had it my way—I'd have Elias Pettersson, Quinn Hughes, and Thatcher Demko on this list. But… that's just not going to happen (at least not yet).
I tried to be as unbiased as I could.
Remember, this is a list of who the best ice hockey players are right now, in 2023. This top 10 ranking is mostly weighted towards recent performance, not necessarily longevity and performance over time (although those are still important factors ).
So, get ready to throw your daggers at me.
Here's the list of the best ice hockey players in the world in 2023.
And, if you want to know what the top 10 ice hockey countries in the world are, check out this article.
Who Is the Best Ice Hockey Player Right Now?
The best ice hockey player in the world right now is Connor McDavid. He is currently ranked #4 on the NHL's all-time list of points-per-game leaders–only behind Wayne Gretzky, Mario Lemieux, and Mike Bossy. He most recently won the 2021-22 Art Ross Trophy (player with the most points in a season).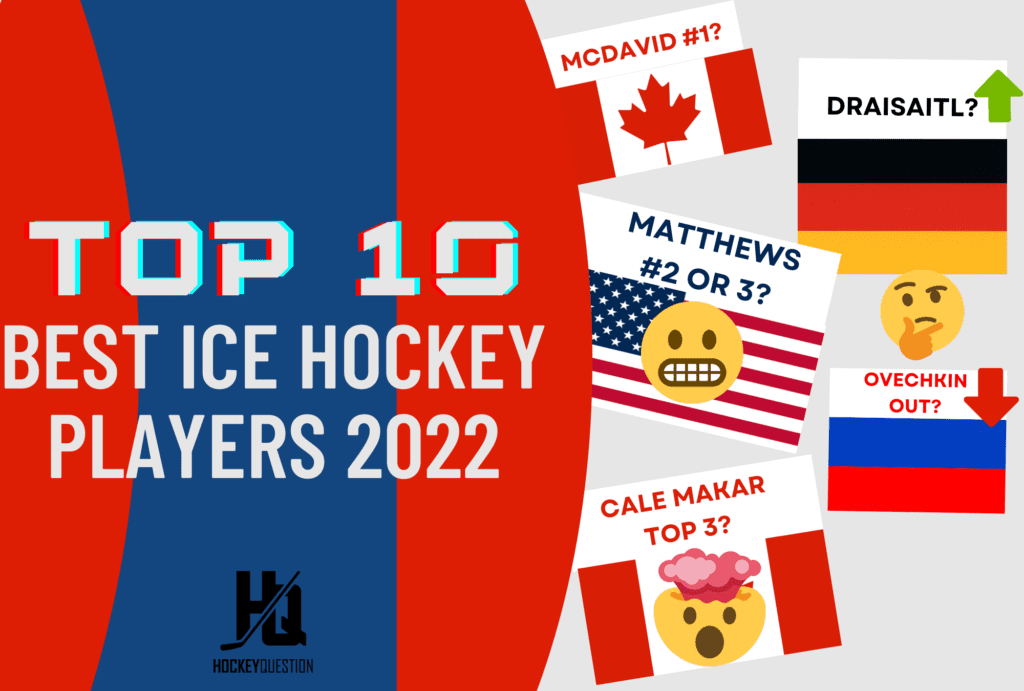 #10. J.T. Miller (C, VAN)
NHL Awards & Trophies:  0
99 points.
J.T. Miller's 2021-22 season went down in the record books for 7th all time in Canucks history (and Canucks' 4th most assists in a single season with 67).
He had 31 more points than the next Canuck (Elias Pettersson & Quinn Hughes had 68 points each). This was the highest point differential between the top 2 scorers on any team in the league in 21-22. 
The second biggest point differential was Jonathan Huberdeau (118 points) and Aleksander Barkov (88) with 27 points. 
To put Miller's season in perspective, it was one of the biggest point differentials between the top two scorers on a team since Taylor Hall's Hart trophy 93 point season of 2017-18 (41 point difference).
#9. Kirill Kaprizov  (LW, MIN)
NHL Awards & Trophies:  1
Calder Memorial Trophy: 1
Kirill Kaprizov is something of a Russian wonder. 
He came into the league with an absolute bang in 2020-21 where he secured the Calder with 51 points in 55 games.
One year later, in his sophomore season, he tallied up a whopping 108 points in 81 games for 5th overall. Oh… and not to mention… he also had 47 goals—nearly twice as many from the previous season.
#8. Johnny Gaudreau (LW, CBJ)
NHL Awards & Trophies:  1
Lady Byng Memorial Trophy: 1
Johnny Hockey is no doubt one of the most dangerous offensive players in the world.
His ability to read the play, combined with his agility, his hands, and his shot, make him a powerful force. 
2021-22 was a career best for him. He tallied 115 points to tie Jonathan Huberdeau for 2nd overall.
His point production in Calgary was certainly helped by the likes of Matthew Tkachuk and Elias Lindholm who also had career-bests. However, I don't see Gaudreau slowing down much in Columbus with his new teammates. If anything, it'll give Patrik Laine and the Blue Jackets the spark they need to compete again.
#7. Igor Shesterkin (G, NYR)
NHL Awards & Trophies: 1
Vezina Trophy: 1
Lundqvist had some pretty big shoes to fill when he retired.
Then came Igor.
Shesterkin has exceeded everyone's expectations to fill the King's shoes.
In fact, he's got a better record through his first three seasons than Lundqvist did.
In Lundqvist's first three seasons, he played 195 games for a 104-58-27 record. He recorded a .917 SV% and a 2.27 GAA.
Shesterkin has a 62-29-7 record with a .928 SV% and a 2.31 GAA.
In 2021-22, Shesterkin won the Vezina as the league's best goalie. Not to mention, he was even a Hart trophy finalist for the most valuable player to his team.
#7. Roman Josi (D, NSH)
NHL Awards & Trophies: 1
James Norris Trophy: 1
Roman Josi led his teams with 96 points this year—as a defenseman.
The Swiss defenseman nearly cracked 100 points! 
The former Norris Trophy winner had an incredible season on a team that was honestly subpar at best.
Nashville just squeaked into the playoffs. And I would argue that it was Josi that was the primary reason they even had a shot.
#6. Jonathan Huberdeau (LW, CGY) 
NHL Awards & Trophies:  1
Calder Memorial Trophy: 1
Hooby-dooby-doo, where are you?
Calgary. That's where.
If you want to talk about someone who's underrated, it's Jonathan Huberdeau. This guy put the team on his back in Florida this past season while several of the main pieces were out.
He's one of the best passers in the game, and tied Johnny Gaudreau for second in the points race with 115 points, only behind McDavid.
#5. Nathan MacKinnon (C, COL)
NHL Awards & Trophies:  3
Calder Memorial Trophy: 1
Lady Byng Memorial Trophy: 1
Stanley Cup: 1
The Mac Attack finally got his long-awaited prize this year.
He's finally a Stanley Cup Champion, just like his buddy Crosby.
MacKinnon is someone who goes 110% every single shift and everyone knows it.
He's a powerhouse of energy, arguably only second in that category to Alexander Ovechkin.
His speed, his skating, his power on the puck, and of course, his shot, make him a top 5 player in the league. There's no doubt he could crack the top 3, and I'm sure he'll tally up a handful of other awards before his career comes to an end.
#4. Leon Draisaitl (C, EDM)
NHL Awards & Trophies:  3
Art Ross Trophy: 1
Hart Memorial Trophy: 1
Ted Lindsay Award: 1
Leon… the shadow behind McDavid in Edmonton.
He already has 3, 100-point seasons, and receives most of his points apart from McDavid.
People don't praise his abilities enough.
Yet, he consistently has been a deadly force on the ice for years, and will continue to do so in Edmonton.
#3. Cale Makar (D, COL) 
NHL Awards & Trophies:  3
Calder Memorial Trophy: 1
Conn Smythe Trophy: 1
James Norris Trophy: 1
Stanley Cup: 1
I had Cale Makar lower on the list before the 2022 playoffs. 
He was still in the top 10, of course, but his playoff run with Colorado which was capped with a championship ring is what took him to the top 3.
He's the best defenseman in the game. He's arguably the best skater next to Connor McDavid. He's also one of the most incredible offensive forces despite being a defenseman. He's also the only player to receive the Hobey Baker award, the Calder, the Norris, and the Conn Smythe.
He can go end-to-end and somehow get all the way back to his own end to shut down the other team without blinking an eye. He's an absolute machine. The craziest part? He's only 23.
#2. Auston Matthews (C, TOR)
NHL Awards & Trophies: 5
Maurice "Rocket" Richard Trophy: 2
Calder Memorial Trophy: 1
Hart Memorial Trophy: 1
Ted Lindsay Award: 1
Auston Matthews—aka, "Papi"
Matthews, the Arizona-born and raised legend, is the third player in the 2000s (and first one in 10 years) to hit the 60-goal mark.
This past season was his best in 2021-22, and he managed to fill up his trophy shelf big time this year with the Hart, Ted Lindsay, and of course, The Rocket Richard trophy.
He's second only to McDavid on our list… and I'm sure everyone would agree McDavid is the only hockey player alive who could give him a run for this money.
#1. Connor McDavid (C, EDM)
NHL Awards & Trophies:  9
Art Ross Trophy: 4
Ted Lindsay Award: 3
Hart Memorial Trophy: 2
So, who is the best ice hockey player in the world?
None other than Connor McDavid.
With 9 NHL awards to date, he's already breaking records and he will likely go down in history as a top 10 player of all time (if not top 5) if he continues a high point production through a 20+ year career.
There isn't much of a debate on this one… Although there are some adamant Maple Leafs Fans that will declare Auston Matthews the king of the hockey world despite having not tallied up as many achievements as McDavid has.
The simple question comes down to this: who would you rather have to defend against 1 on 1? Auston Matthews or Connor McDavid? I'm sure 99% of players would take the former.
Honorable Mentions (#11-#20)
#11: Victor Hedman (D, TBL)
#12: Matthew Tkachuk (LW, FLA)
#13: Steven Stamkos (C, TBL)
#14: Alexander Ovechkin (LW, WSH)
#15: Sidney Crosby (C, PIT)
#16: Artemi Panarin (LW, NYR)
#17: Andrei Vasilevskiy (G, TBL)
#18: Adam Fox (D, NYR)
#19: Patrice Bergeron (C, BOS)
#20: Jacob Markstrom (G, CGY)
Want more answers to the most asked hockey questions? Be sure to check out our other popular articles: What Are the Top 10 Ice Hockey Countries, Why Is Fighting Allowed in Hockey, and Why Does the Goalie Leave the Net in Hockey?
Sources
https://www.quanthockey.com/nhl/records/nhl-players-all-time-points-per-game-leaders.html
https://www.quanthockey.com/nhl/seasons/nhl-players-stats.html
https://www.nhl.com/fans/nhl-awards-event
https://www.quanthockey.com/nhl/team-season-records/vancouver-canucks-players-nhl-season-records.html
https://www.yardbarker.com/nhl/articles/rangers_shesterkins_success_indicates_similar_path_to_lundqvist/s1_16448_37885308