Are you just starting your hockey journey?
Well, you may have heard (or experienced) horror stories of painfully uncomfortable hockey skates.
There's nothing worse than feeling a huge blister developing in the middle of a game. Worse yet is experiencing a foot cramp that takes you off the ice before the game ends.
We know how painful it can be wearing an uncomfortable pair of hockey skates… Which is why we created this article for you.
In this post, we'll cover the 3 most comfortable hockey skates for beginners so you can feel confident and perform at your best on the ice.
And, if you're bigger or taller, you'll want to check out our blog post on the Best Ice Hockey Skates for Big Guys.
Let's begin.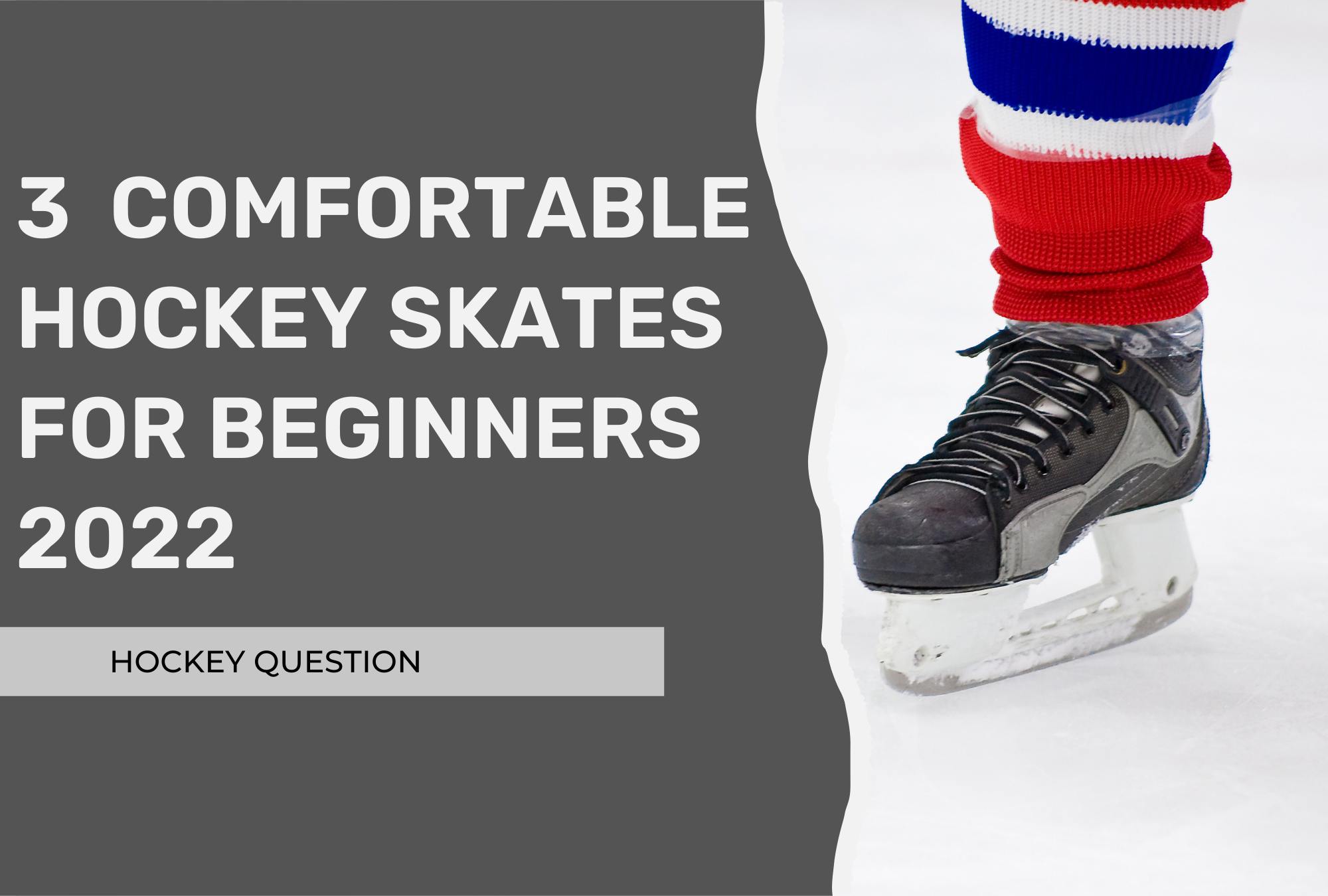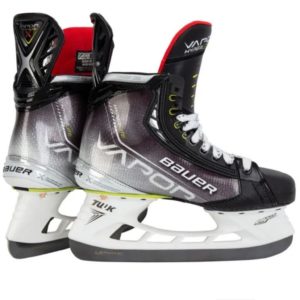 Our top pick for comfortable hockey skates in 2023 are the Bauer Vapor Hyperlite skates.
While these skates don't come cheap, they are hands down the most comfortable skates available—and they're arguably the best skates overall.
Pros
Extremely comfortable (Lock Fit Pro liner)
Very lightweight
Nice stiff boot for snug ankle support
Comes in a variety of sizes—allowing for a "custom" fit
Cons
Very expensive
Some skaters have mentioned concerns about durability
| | |
| --- | --- |
| Skate Features | Bauer Vapor Hyperlite Ratings |
| Comfort | 10/10 |
| Stiffness | 9.5/10 |
| Weight | 10/10 |
| Sizing Versatility | 10/10 |
| Time to Break-In | 9/10 |
| Durability | 9/10 |
| Performance | 9.5/10 |
| Aesthetics | 9.5/10 |
| Runners  | 10/10 |
| Price | 6.5/10 |
| Overall | 93/100 |
In 2022, Bauer introduced the Vapor Hyperlites… And they certainly don't disappoint with the latest top-tier skate.
The proof is in the NHL players wearing them. Some of the most elite skaters rep the Hyperlites including Patrick Kane, Matthew Tkatchuk, Roman Josi, Steven Stamkos, and more.
The most important skate feature for beginner hockey players to consider is fit and comfortability.
With both a comfort and sizing versatility of 10/10, the Vapor Hyperlites have a really impressive fit and comfortability overall.
The skates feature a single piece boot, making it stiffer (and better fitting). While it may seem like a stiff skate may be uncomfortable—the truth is that it gives you much better support, allowing your skate to feel like an extension of your foot, rather than a clunky piece item attached to your foot.
So, despite the fact that the skates are stiffer, they're incredibly comfortable. 
Inside, you'll find a comfortable Lock Fit Pro liner, Aerolite foam tongue, and additional padding to give an upper edge for comfortability.
Plus, as a beginner, it can be difficult finding the right boot size. It's a lot easier to find a skate that fits perfectly after you've had years of playing under your belt.
However, that's not an issue with the Vapor Hyperlites. They come in a wide variety of sizes and shapes. Plus, with Bauer's 3D foot scanning machine (you can use it for free at your local Pure Hockey shop), you'll be able to find the exact size for your feet.
One downside to these skates is that some people have mentioned durability issues. However, the only major reason you should turn down these skates is the ticket price. While these are our top-rated skates in terms of comfortability, they're also some of the most expensive skates on the market.
However, the value you get out of these skates is justified. Not only are these the top skates on the market in 2023… But, they're the best overall skates for beginners looking for a comfortable skate.
Coming in at #2 for our most comfortable hockey skates for beginners are the CCM Super Tacks AS3 Pros.
These skates nearly took first place— as we gave them a rating of 88.5 out of 100 overall (just 4.5 points shy of the Hyperlites).
Pros
Very comfortable
Nice stiff boot for great ankle support
Lightweight
One piece boot design for maximum energy transfer
Keeps your foot dry with Total Dri Pro moisture wicking
Cons
Very expensive
Doesn't have as many sizing options as Hyperlites
| | |
| --- | --- |
| Skate Features | CCM Super Tacks AS3 Pro Ratings |
| Comfort | 10/10 |
| Stiffness | 9/10 |
| Weight | 10/10 |
| Sizing Versatility | 7.5/10 |
| Time to Break-In | 9/10 |
| Durability | 9.5/10 |
| Performance | 9/10 |
| Aesthetics | 9/10 |
| Runners | 9/10 |
| Price | 6.5/10 |
| Overall | 88.5/100 |
In 2023, the CCM Super Tacks AS3 Pros are among the highest performance hockey skates available—and an excellent option for beginner skaters.
Two of the top NHLers who rep the AS3 Pros are Alexander Ovehckin and J.T. Miller.
The Super Tacks AS3 Pros are a gorgeous one-piece skate. Having a one-piece boot means you have incredible energy transfer in the skates—offers you much more agility and power when skating.
A one piece boot is definitely an advantage for newer players who are getting used to stopping and starting. It gives you a nice edge on the ice since you're still getting used to frequently changing directions in the game (which can be hard on your feet and legs).
These skates also feature CCM's brand new foot bed tech: the Ortholite Ultralight footbed. 
This foot bed feels very nice and snug on your foot. Plus, it also includes moisture wicking technology that keeps your feet nice and dry (and comfortable) during play.
The biggest downside is that the AS3 Pros don't have a ton of versatility when it comes to sizing—which is one reason they fell short of the Hyperlites. Plus, being a top-tier skate, they're also really expensive.
However, overall, the AS3 Pros are very comfortable—especially if you have a medium-sized foot. They also come with the option of an interchangeable tongue to give you an even better fit (not included in standard price).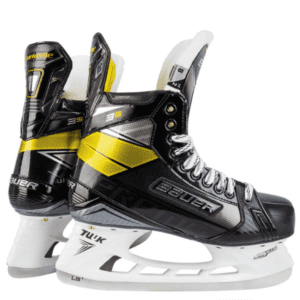 If you're wanting to get a comfortable pair of hockey skates, but you aren't ready to drop a thousand dollars on some skates, then you'll want to check out Bauer's Supreme lineup.
This series of skates is designed with straight line speed and maximum power transfer in mind.
While the Bauer Supreme 3S hockey skates aren't the best on the market, they're a great budget-friendly option for beginners players. And, they offer arguably the best value, as they're some of the best mid-tier skates available.
Pros
Very comfortable mid-tier skate
Lightweight
Nice stiff boot is good for beginner ankle support
Great value for the price
A bunch of sizing options for almost any foot
One piece design gives you maximum energy transfer
Cons
Not as durable as top-tier skates
Performance isn't as good as top-tier skates
| | |
| --- | --- |
| Skate Features | Bauer Supreme 3S Ratings |
| Comfort | 8/10 |
| Stiffness | 8/10 |
| Weight | 8/10 |
| Sizing Versatility | 9/10 |
| Time to Break-In | 7.5/10 |
| Durability | 7.5/10 |
| Performance | 8/10 |
| Aesthetics | 8/10 |
| Runners | 7/10 |
| Price | 8/10 |
| Overall | 79/100 |
If you're new to the game, but you aren't ready to drop $1,000 on top-tier skates, then the Bauer Supreme 3Ss are some of the best mid-tier skates available. 
They feature a nice, stiff boot in a wide variety of sizes. The skates are versatile enough size-wise to provide maximum comfort for any beginner.
The exterior of the boot is made from an impressive 3D Lasted Flex composite which offers a nice custom fit. Plus, the boot is super sturdy, allowing you to push off with more power on each stride.
The 3Ss also come with one of the best holders for mid-tier skates: the Lightspeed Edge. These holders make it easy for you to replace your blade when necessary with the flip of a trigger.
The Supreme 3Ss also include a comfortable Hydrophobic Microfiber liner. This prevents excess build up of moisture inside your boot—which offers a bit more comfort during a game.
7 Tips for Making Your Hockey Skates More Comfortable
If you're wanting to get your skates as comfortable as possible to avoid chafing, bruising, or general foot pain, then follow these 7 tips:
1. Get Your Feet Fitted & Scanned
If you're about to buy some hockey skates, then make sure you follow this first tip. It's the most important one.
Take a trip to your local hockey shop and get the most knowledgeable worker there to properly fit your feet to the right skates.
Get your size. Try on a bunch of different brands, models, and sizes.
If you're near a Pure Hockey Shop, go there and get your feet scanned for free on their 3D Bauer machine.
This machine accurately sizes your feet to the exact skate size you are. Just keep in mind, they'll fit your feet to a Bauer skate, not CCM or any other brand. 
2. Bake Your Skates
Heating your skates up, putting them on, and letting them set is very common practice among hockey players. This is important even if you get top-tier skates.
You can get this done at most hockey shops. Or, you can do it yourself.
Check out this article to see how you can bake your skates at home.
3. Use Comfortable Insoles
Next up, your skate insoles are super important.
While your skates will come with stock insoles, it's a good idea to upgrade your insoles if you want to avoid (or get rid of) skate discomfort.
4. Use Hockey Skate Inserts & Gel Pads
Another great solution to avoid skate discomfort is to use skate inserts and/or gel pads.
To avoid lace bite, try out some Gel Pads—they provide extra comfort around the ankles.
To avoid overall foot pain, check out Superfeet Hockey Foam Insoles. These are used by a ton of hockey players to add a bit more comfort.
The Powerfoot Performance Inserts are another insert that help you remove negative space inside your skate, making it more snug.
You can get an overview of Powerfoot Inserts in this video:
5. Try Wearing Different Socks
The easiest (and fastest) option to improve comfortability in your skates is by just changing the socks you're wearing. Simple, right?
This may sound too easy, but it really can work like a charm.
If you have too much wiggle room in your skate causing you discomfort, try thicker socks. And, if things are a bit too tight, try thinner ones.
6. Lace Your Skates Up Better
Sometimes, you could be uncomfortable due to improper lacing.
You could have skates that fit perfectly, but if you're tying them up incorrectly, they'll feel uncomfortable.
To prevent uncomfortable skates, try changing up the tightness of your laces on your boot. 
For instance, you could tighten the laces at the bottom section of your skate, loosen them up a bit in the middle, and then tighten them up again at the top.
Take notice of where you're feeling the most discomfort. Then, loosen or tighten your laces accordingly.
7. Play More Frequently
If you're only going out a few times each year to skate, then your skates are more likely to feel uncomfortable. If you don't use them much, they're going to feel painful and there's no real way around that.
You need to give your feet the time to adjust to skates.
As a beginner skater, this is especially true. Most new skaters find their skates are very uncomfortable at the start. And, they often wonder if they did something wrong or picked the wrong skates.
But, the truth is, every pair of skates has a break-in time. 
And, as time goes on, your feet begin adjusting to your skates. Most of the time, you just need to be patient, giving yourself more time to break your skates in.
Sources
https://www.geargeek.com/stats/points
https://www.purehockey.com/product/bauer-supreme-3s-pro-ice-hockey-skates-senior/itm/41276-41/
https://www.purehockey.com/product/ccm-super-tacks-as3-pro-ice-hockey-skates-senior/itm/41383-41/
https://www.purehockey.com/product/bauer-supreme-3s-ice-hockey-skates-senior/itm/41277-41/
---