Nearly every kid growing up playing hockey dreams of scoring a goal in the NHL.
But, only a small percentage of players make it to the league, and even fewer score an NHL goal.
And, for NHL goalies, only a handful have ever scored a goal in the league's 100+ year history.
Here's everything you need to know about goalie goals in hockey—including the names of all goalies who have scored a goal, who the top goalie goal scorer is, and who the last goalie is who scored a goalie goal.
Has an NHL Goalie Ever Scored a Goal in Hockey?
Yes, there have been 16 goals scored by NHL goalies in league history. The majority of these (8) were unintentional "own goals" put in by their opponents. However, half (8) of these goals were goals they scored after the goalie made a shot on goal.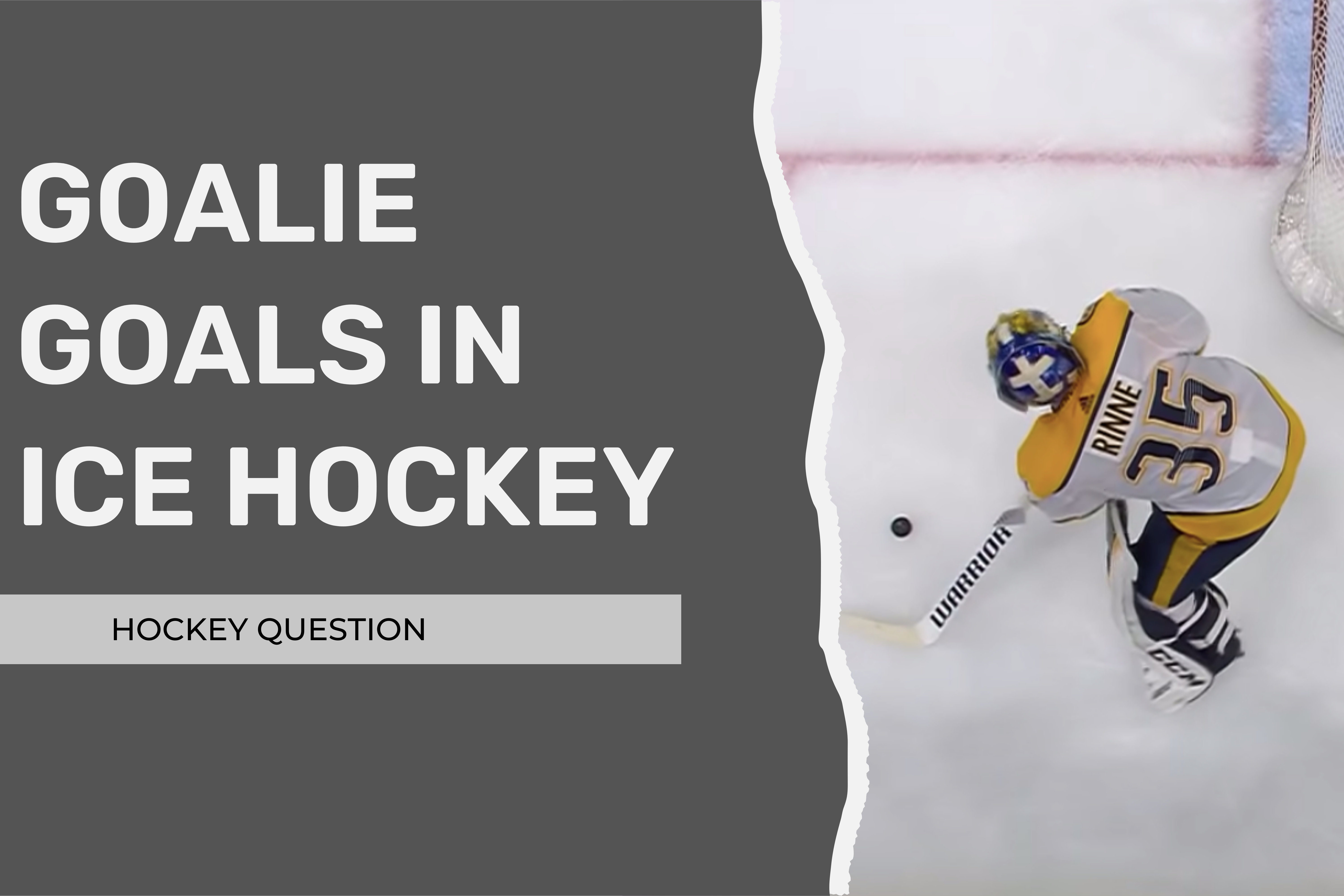 What NHL Goaltenders Have Scored an NHL Goal?
There have been 13 different NHL goalies who have been credited with scoring an NHL Goal. The list includes:

Billy Smith (1 — Opponent's Own Goal)

Ron Hextall (2 — Both Shots on Goal)
Chris Osgood (1 — Shot on Goal)
Martin Brodeur (3 — 1 Shot on Goal, 2 Opponent's Own Goal)

Damian Rhodes (1 — Opponent's Own Goal)

Jose Theodore (1 — Shot on Goal)
Evgeni Nabokov (1 — Shot on Goal)

Mike Noronen (1 — Opponent's Own Goal)

Chris Mason (1 — Opponent's Own Goal)

Cam Ward (1 — Opponent's Own Goal)

Mike Smith (1 — Shot on Goal)
Pekka Rinne (1 — Shot on Goal)
Linus Ullmark (1 — Shot on Goal)
The 13 goalies combine for a total of 16 goals (Ron Hextall has 2 goals and Martin Brodeur has 3).
Of the 16 total goals scored by NHL goalies, 8 were attempted as actual shots on goal by the goalies.
The other 8 were "own goals" scored by the opposing team.
If a team accidentally puts the puck in their own net, it counts as a legitimate goal by the other team. 
However, they will credit the goal with the last opposing player who touched the puck. This particular scenario where a goalie touched the puck last and the other team accidentally scored on themselves accounts for nearly half of all goalie goals. 
Has a Hockey Goalie Ever Scored the Game-Winning Goal?
Yes, but there has only been one goalie in history who has scored a game-winning goal: Martin Brodeur.
On February 15, 2000, Martin Brodeur of the New Jersey Devils was credited with the game-winning goal after Daymond Langkow of the Philadelphia Flyers put the puck in his own net.
This was Brodeur's second NHL goal. 
Has a Hockey Goalie Ever Scored a Non-Empty Net Goal?
Yes, the only NHL goalie to ever score a goal on a non-empty net was Martin Brodeur.
On March 21, 2013, Martin Brodeur was credited with his third NHL goal when the opposing team put the puck in their own net.
Dan Ellis, the goaltender for the Carolina Hurricanes was making his way to the bench to bring on an extra attacker. However, the puck began making its way towards the Carolina net so Ellis attempted to return to his net and stop the puck.
Since Ellis made his way back on the ice towards the puck, the goal was not technically an empty-net goal (even though it looks like one). It counted as a legitimate goal against Ellis.
Since Martin Brodeur was the last Devils player to touch the puck, this resulted in the first and only NHL goal by a goalie that wasn't on an empty net.
How Often Do Goalies Score in Hockey?
Since 1979, a goalie has scored, on average, about 1 every 3 years.
Before the 1979-80 season, there wasn't a single goalie goal ever recorded in the NHL.
Between the 1979-80 and 2022-23 seasons, there have been 42 seasons (it would be 43 if there wasn't a lockout in 2004-05). Since then, there have been a total of 16 goalie goals.
The last goalie goal to be scored was by Linus Ullmark on February 25, 2023.
Which Goalie Has the Most Points?
The goalie with the most points in NHL history is Tom Barrasso. With 777 total NHL games played, Barrasso amassed a total of 48 points.
Barrasso never scored an NHL goal. He amassed all of his points by getting 48 assists.
Grant Fuhr holds the record for most points as a goalie in a single NHL season with 14 in 1983-84 with the Edmonton Oilers.
Who Scored the First Goal as a Goalie in the NHL?
Billy Smith scored the first NHL goal as a goaltender. In the 1979-80 season, he became the first goalie on record to score an NHL goal due to an own goal by Rob Ramage on the opposing team.
However, Ron Hextall was the first goalie to score an NHL goal on an attempted shot. He did this on December 8, 1987.
What Hockey Goalie Has the Most Goals?
Martin Brodeur has the most goalie goals in NHL history with three. Only 1 of these goals was credited as a shot on goal. The other 2 goals were goals scored by the other team. These 2 goals were accredited to Martin Brodeur as he was the last player on the opposing team to touch the puck.
The goalie with the second-highest goal total is Ron Hextall with two. Both of these goals were scored by Hextall after he directly shot the puck into the net. This gives Hextall the record for the most intentional goals by a goalie.
Who Was the Last Goalie to Score in the NHL?
Linus Ullmark, one of the tallest goalies to play the game, was the last one to score a goal in the NHL.
On February 25, 2023, the Boston Bruins played against the Vancouver Canucks during the regular season.
With less than two minutes left in the third period, the Canucks were down 2-1 and decided to pull the goalie (Arturs Silovs).
With 50 seconds left in the game, Linus Ullmark got the puck and made a shot on goal. On his first shot attempt in the NHL, the 29-year-old finally got his goalie goal.
How Do Goalies Get Points in Hockey?
In hockey, goalies can get points the same way players do.
They can either get one point from an assist on a goal or get one point by scoring a goal themselves.
While it's very rare for a goalie to score a goal in the NHL, it's quite common for a goalie to get an assist on a play.
An assist is credited to the last two players to touch the puck before a player scored a goal. This means if a goalie passes the puck to his teammate, and that player goes all the way up the ice to score, the goalie will get an assist.
Even if the goalie passed the puck to a teammate, and that player passed to another guy who scored, the goalie will still get an assist, and therefore one point on the play.
How Do Goalies Get Points in Fantasy Hockey?
In fantasy hockey, there are a few ways goalies can get points.
They can get points either by wins, shutouts, saves, assists, and goals.
In the Classic NHL fantasy point system, DraftKings gives (or takes away) points for goalies in 4 stat areas:
| | |
| --- | --- |
| Win | +4 Points |
| Save | +0.4 Points |
| Goal Against | -1 Point |
| Shutout Bonus | +4 Points |
However, every fantasy league varies depending on what they accredit points for. And, personal hockey pool leagues can customize exactly what they determine are worthy of points.
The most common fantasy points for goalies come through wins and shutouts.
What Happens if a Goalie Scores a Goal in Fantasy Hockey?
If a goalie scores a goal in fantasy hockey, they will typically be accredited with the same number of points that a player would receive. 
Most likely, this would be two points. 
However, each league is different and personal hockey pool leagues are customizable. This means you could set the reward as 10 points if you liked. Considering a goalie goal only occurs about once every three years, it's very unlikely that one will occur on any given team at a time.
Looking for more answers to the most common hockey questions? Be sure to check out our other popular blog posts: Is There a Size Limit for Hockey Goalies, Why Is Icing in Hockey Bad, and What's the Best Height for Ice Hockey!
Sources
https://www.nhl.com/news/nhl-historical-stats-press-release/c-291394420