So you're looking at getting some ice skates for hockey?
But, you're a bigger guy.
You want to make sure your skates have the proper support and the proper fit.
Well, you've come to the right place.
Yes—you can still play hockey if you're a tall or heavy player. In fact, if you're a bigger player, it can even give you an advantage in the game.
Dustin Byfuglien (260 lbs), Jamie Oleksiak (255 lbs), and Pat Maroon (238 lbs), are all proof that bigger guys can compete in the show.
In this article, we'll show you the 3 best hockey skates for big guys in 2023. 
Let's begin.
The Bauer Vapor Hyperlite skates are Bauer's top of the line hockey skates for 2023.
These are the best overall ice hockey skates for big guys. We gave them an overall rating of 93/100.
Pros
Very stiff boot is best-suited for heavier weight
Extremely comfortable (Lock Fit Pro liner)
Lightweight
Comes in a variety of sizes—accommodating for bigger feet
Cons
Not budget-friendly by any means
Some people have shown concerns about durability
| | |
| --- | --- |
| Skate Features | Bauer Vapor Hyperlite Ratings |
| Comfort | 10/10 |
| Stiffness | 9.5/10 |
| Weight | 10/10 |
| Sizing Versatility | 10/10 |
| Time to Break-In | 9/10 |
| Durability | 9/10 |
| Performance | 9.5/10 |
| Aesthetics | 9.5/10 |
| Runners | 10/10 |
| Price | 6.5/10 |
| Overall | 93/100 |
While CCM has done a great job to compete for the best overall skate in the industry, Bauer continues to keep edging them out.
And Bauer doesn't disappoint with the latest Vapor Hyperlites.
The most important skate feature for bigger hockey players to consider is stiffness.
With a rating of 9.5/10, the Vapor Hyperlites have a really impressive stiffness in the boot overall.
The boot is a single piece, making it stiffer (and better fitting).
Despite the fact that the boot is stiffer, it's incredibly comfortable—featuring a Lock Fit Pro liner, Aerolite foam tongue, and additional padding inside the boot.
Plus, bigger guys tend to have bigger feet, which sometimes means it's harder to find the right boot size. That's not an issue with the Vapor Hyperlites since they come in a wide variety of sizes and shapes.
If you have wider feet, then you may want to check out our 3 best hockey skates for wide feet here.
While some people have mentioned durability issues with the Hyperlites, the only major reason to turn down these skates would be the price as they're some of the most expensive on the market.
However, the value from the skates is justified. Not only are these the top-of-the-line boots on the market, they're the best overall boots for heavier players.
The Bauer Vapor Hyperlite skates provide a very stiff boot that's lightweight and comfortable for newbies to all the way to pros.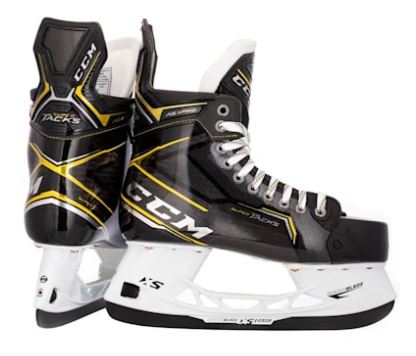 The second best hockey skates for big guys are the CCM Super Tacks AS3 skates.
These skates almost took first place, as we rated it 88.5 out of 100 overall.
Pros
Stiff boot is great for heavier weight
Lightweight
Very comfortable
One piece design for maximum energy transfer
Comfortable and dry with Total Dri Pro moisture wicking
Cons
Top-tier pricing
Doesn't have as many sizing options
| | |
| --- | --- |
| Skate Features | CCM Super Tacks AS3 Pro Ratings |
| Comfort | 10/10 |
| Stiffness | 9/10 |
| Weight | 10/10 |
| Sizing Versatility | 7.5/10 |
| Time to Break-In | 9/10 |
| Durability | 9.5/10 |
| Performance | 9/10 |
| Aesthetics | 9/10 |
| Runners | 9/10 |
| Price | 6.5/10 |
| Overall | 88.5/100 |
The CCM Super Tacks AS3 Pros are among the highest performance hockey skates available in 2023—and an excellent option for heavier players.
The AS3 Pros are a beautiful one-piece skate. This means the energy transfer in these skates offers the skater much more agility.
This is great for newer players who are getting used to stopping and starting. It offers a nice advantage since you're just getting the hang of frequently changing directions in the game.
Plus, these skates feature CCM's brand new foot bed technology—Ortholite Ultralight footbed. It feels nice and snug on your foot and offers moisture wicking technology to keep your feet dry and comfortable during play.
While they don't have a ton of versatility when it comes to sizing, the CCM Super Tacks AS3s are very comfortable—especially if you have medium-sized feet. They come with an interchangeable tongue option to get a better fit (not included in standard price).
Bauer's Supreme lineup was designed with maximum power transfer and straight line speed in mind.
While the Bauer Supreme S3 skates aren't the best on the market, they're a great budget-friendly mid-tier option for bigger players. We gave them a 79/100 overall rating.
Pros
Boot is nice and stiff overall
Great value (for mid-tier skates)
A ton of sizing options for any foot size
Comfortable and dry with Hydrophobic Microfiber liner
Cons
Not the most comfortable skates on the market
Not quite as durable as top-tier skates
| | |
| --- | --- |
| Skate Features | Bauer Supreme 3S Ratings |
| Comfort | 8/10 |
| Stiffness | 8/10 |
| Weight | 8/10 |
| Sizing Versatility | 9/10 |
| Time to Break-In | 7.5/10 |
| Durability | 7.5/10 |
| Performance | 8/10 |
| Aesthetics | 8/10 |
| Runners | 7/10 |
| Price | 8/10 |
| Overall | 79/100 |
The Bauer Supreme 3Ss are some of the best mid tier hockey skates available today.
Featuring a nice, stiff boot in a wide variety of sizes—they're versatile enough for almost any bigger player.
The outside of the skates are made from 3D Lasted Flex composite which offers a nice custom fit. This will let players push off with more power with each stride.
They also have one of the best holders for mid-tier skates—the Lightspeed Edge. These make it easy to remove and replace your blade with the flip of a trigger.
The Supreme 3Ss also feature a Hydrophobic Microfiber liner that prevents build up of moisture inside the boot, offering a bit more comfort during a game.
Something to keep in mind is that lower end skates begin to crease and break down quicker than high-end skates.
Heavier players will be best suited to get a high-end skate due to increased stiffness and durability.
Nevertheless, the Supreme 3Ss are solid mid-tier skates that offer an incredible value for the price.
For more budget hockey skates, check out our top 3 ice hockey skates for under $200 here.
8 Hockey Tips for Heavier Players
If you're a bit heavier, and you're looking to get started with ice hockey, you may have a few questions such as…
What should you look out for when buying hockey skates?
Will there be any problems to avoid with skating?
What are the biggest challenges for bigger hockey players?
Well, if you're a bigger hockey player, here are a few tips to keep in mind:
1. Pick Stiffer Skates
Always pick the stiffer skate.
The stiffer your boot is, the more confidence you'll have turning on your edges.
This is especially important if you're new to the game.
While all hockey skates will inevitably be stiffest when they're brand new, cheaper skates will start to break down and bend faster than mid or top-tier skates.
Heavier players simply put more pressure on their skates, meaning they need to be much stiffer and much higher-quality to last.
2. Use the Pure Hockey Bauer Machine
If you live near a Pure Hockey store, you should definitely get your feet scanned (for free) on their Bauer machine.
The machine will very accurately size your feet to perfectly fit hockey skates. Keep in mind, the sizing will be a match for Bauer skates (so it won't be best if you're already wanting to get CCMs or another brand).
Even if you don't intend on buying skates from the store, you can use the machine for free to get your skate size.
3. Blade Sharpening: Get a Shallow Hollow
As a bigger guy, when you get your skates sharpened, it's important to get a shallow hollow.
Get your blades sharpened at 3/4 as that tends to be the sweet spot for bigger players. This is a more shallow hollow, and it means 2 things: you can't turn as well. But, you can speed up quicker.
If you get a deeper hollow, it will slow you down. And, skating slow is something you'll want to try to avoid whether you're a new player, big player (or both).
4. Focus On Positioning
If you're a bit heavier, you're more likely going to be a bit slower than most players. That's just the reality.
But, you can still excel in different parts of the game.
One is to focus on positioning.
If you're slower, positioning will be a key component of your game. Think like Gretzky. He wasn't the fastest player—but he always seemed to be at the right place at the right time.
5. Use Your Size To Your Advantage
Pat Maroon and Anders Lee are great examples of bigger guys who use their bigger size to their advantage.
They both are excellent at making their presence known in front of the opposing net. Defenders simply can't move these guys, and goalies can't see around them—providing great screening (and ultimately scoring) opportunities.
6. Try Playing Defense
While you can excel as a bigger forward like Maroon or Lee—big players are best-suited playing defense.
Think about players like Victor Hedman or Zdeno Chara. These guys use their bigger bodies to block shots, box out opposing forwards, and leverage their weight for big hits.
Focus on blocking shots. Focus on setting picks to keep guys away from your net to take away his shooting and passing lanes.
While you probably won't be the fastest guy out there, if you can focus on controlling your positioning and your skating, you'll be able to use your size well.
7. Be Careful—Your Size Is A Weapon
This tip is more of a warning.
If you're just starting, you'll be amazed at how easy it is to take other guys out with your body—even if you're not a bigger player.
It's important for someone who's bigger to be careful not to hurt any other players when throwing your body around.
What may seem like a light brushing of your shoulders against the other team may be something that knocks a player on their feet—especially if they're half your size.
If you're always running into players (whether on your team or the opposing team), you'll be quick to make some enemies.
Be very careful not to skate into people. You'll probably hit people by accident or run into people as you're learning. But, you should take the time to focus on your overall balance and skating so you can avoid unnecessary accidents.
8. Optimize Your Diet and Exercise
I know what you're thinking… Yeah, right! I'm playing in a beer league!
Well, if you're serious about improving your game, then it might be good to cut back on the potato chips and go for a walk every now and then.
The reality is, for bigger players, it takes a lot more energy to skate up and down the ice. This is especially true if you're 30 or over as your endurance and energy levels tend to begin dropping off.
By focusing a bit on eating less junk food and doing a bit of exercise (outside of your regular hockey schedule), you'll prevent feeling absolutely gassed after your first few shifts in a game.
For more hockey gear tips and recommendations, check out these guides: How to Remove Hockey Jersey Wrinkles, Bauer vs. CCM Sticks (Everything You Should Know), and 3 Great Hockey Skates for Ankle Support.
Sources
https://www.purehockey.com/product/bauer-vapor-hyperlite-ice-hockey-skates-senior/itm/44907-41/
https://www.purehockey.com/product/ccm-super-tacks-as3-pro-ice-hockey-skates-senior/itm/41383-41/
https://www.purehockey.com/product/bauer-supreme-3s-ice-hockey-skates-senior/itm/41277-41/