So you're wanting to start playing hockey.
But, there's just one problem…
You wear glasses.
But, how does that work? Can you wear glasses while playing hockey? Will they break? Or fog up?
What about contacts… And, what if you're wanting to be a goalie?
In this article, we'll show you whether you can play hockey with glasses or not. We'll also show you exactly how you can play the sport, even if your vision is impaired.
Keep reading to find out.
Here's Whether You Can Play Hockey With Glasses:
Yes, you can play hockey with glasses. However, it's not as easy since you're more prone to losing some level of visibility due to your glasses fogging up while on the ice. While the best option is to wear contacts or get laser eye surgery, you can certainly play hockey with glasses.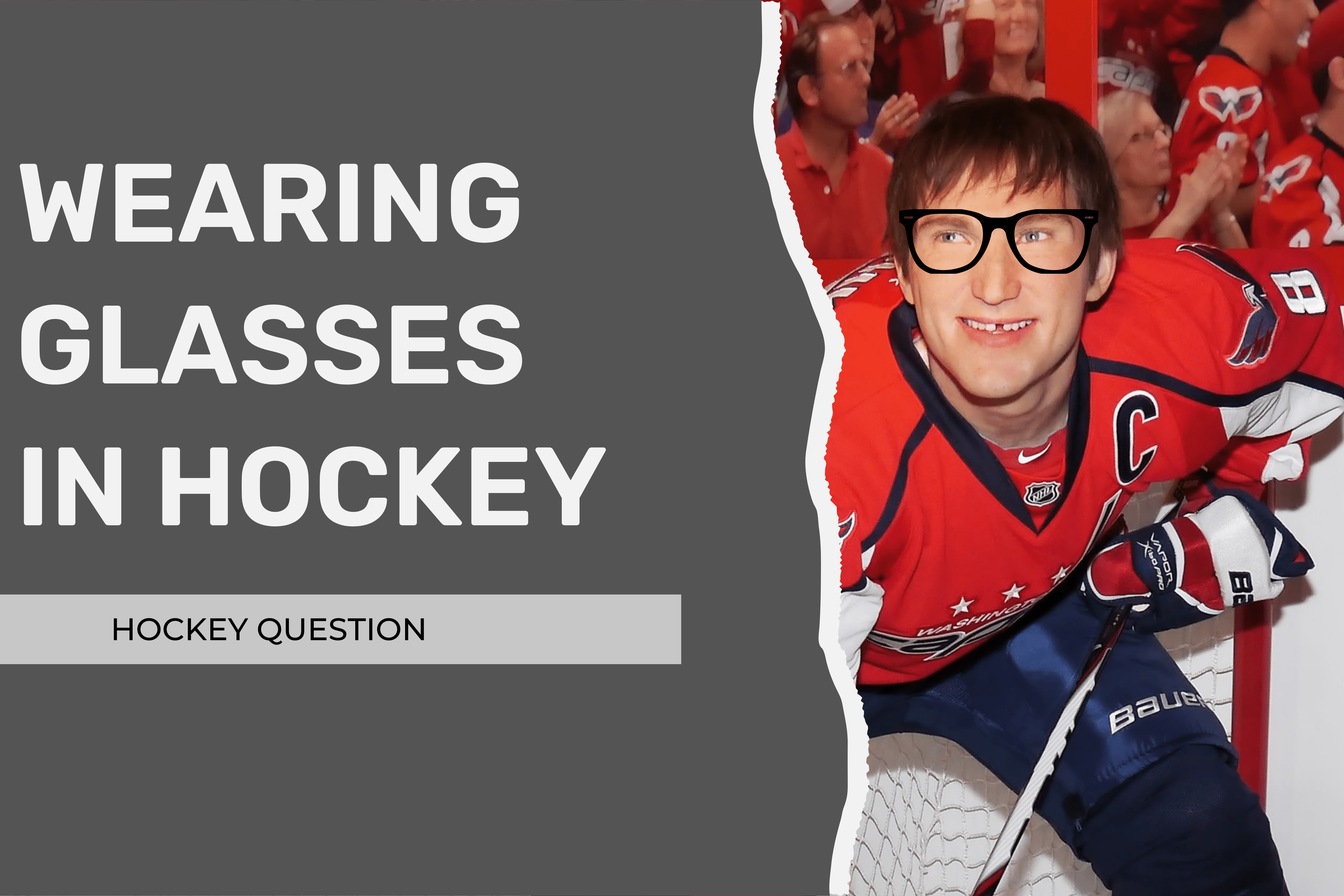 How Do You Play Hockey With Glasses?
Glasses can definitely be worn while playing hockey.
In fact, there's nothing more important than your vision on the ice. Your ability to see what's going on around you is everything.
It's a huge pain if you can't see due to bad eyesight, a foggy visor, or even a scratched up visor (I actually wrote an article on how to get rid of visor scratches here so you can see better on the ice).
However, there are a few points you'll need to consider before you head out the door and play.
The worst thing would be to smash your glasses on the ice the first time you step on the ice. This is especially important if you're new to playing hockey, as you should expect to have a few spills while you're learning to skate.
Pick the Right Frames
The first thing you'll want to do is ensure you have a solid pair of glasses. You want your glasses to be strong, but you don't want them too big. If your glasses are too bulky, it will be hard to get a helmet on over top. Plus, it could be very uncomfortable.
Glasses with a thin metal frame will be your best option.
Pick the Right Helmet
As for a helmet, you'll want to test out how different styles and brands feel with glasses on. The most important thing when choosing a helmet is protection. The second most important thing is comfortability.
Pick the Right Face Protection
Then, it's time to decide if you'll go without face protection, or use a visor, full plastic face shield, or full metal cage.
While it's the best way to avoid fogging up your glasses, you definitely don't want to opt-out of wearing any face protection. Your chances of breaking your glasses are much higher. 
Plus, if you're just learning how to play hockey, it's recommended to at least use a visor.
Researchers at the University of Toronto and Harvard Medical school predicted that if NHL players wore visors (rather than no face protection), the number of eye injuries would be reduced by 4 times.
However, your best option is to use a full-face metal cage. Not only does this provide protection from injury, but it also protects your glasses, and reduces the odds of your glasses fogging up.
Can You Wear Glasses in the NHL?
There currently isn't a rule against wearing glasses in the NHL rulebook. So, yes, you technically can wear them in the NHL. However, there isn't a current NHL player who wears them while playing.
In times past—before contact lenses were invented—there were players who wore glasses on the ice. And no, I'm not talking about the Hanson brothers from the movie Slap Shot.
A few ex-NHLers who have worn glasses while playing on the ice. A few of them include Hal Laycoe and Al Arbour. Keep in mind, these guys played at a time when they also played without helmets. 
Can You Wear Glasses Under a Hockey Helmet?
Yes, you can wear glasses—under some hockey helmets.
Hockey helmets are designed to be nice and snug against your head for extra protection and comfort. However, this makes it challenging when you're trying to wear glasses as well.
You'll want to make sure your glasses have very thin frames (metal is the best) in order to ensure they fit easier in your helmet.
Then, you'll want to test on a few helmets with your glasses to see how they fit. 
How Do You Keep Your Hockey Glasses from Fogging Up?
There's nothing worse than fogging up your hockey visor…
Except when you fog up your glasses.
If you choose to wear your glasses while playing hockey, they will inevitably fog up to some degree.
There's no real way to completely avoid fogged-up glasses.
However, you can try this little trick to prevent or at least reduce how much your glasses fog up during the game…
Before you head out to the rink, take a small amount of dish soap (the size of the end of your pinky should be fine). Then, massage this small amount gently onto your lenses.
Let it dry out. Then, buff it out.
Another option is using defogging wipes. You'll want to use them before each game. You should also bring them onto the bench with you in case you need to defog during the game.
One great way to prevent fogging is to make sure you're using a cage rather than a visor or full-face shield (fishbowl). The reason being, the visor or fishbowl can trap moisture easier.
So, the best option is to use a full-face metal cage since it's much more breathable.
Pssst… Do you want to make sure you have really good vision on the ice? Then you also need to make sure your visor doesn't fog up. I highly encourage you to check out our article on how to prevent your hockey visor from fogging up here.
Can You Play Hockey With Contacts?
Yes, you can play contacts while playing hockey. It's a much more convenient option for those who are vision-impaired and require glasses to see.
Having good eye-sight (or even average) is crucial for anyone wanting to play hockey. Your success with hockey will greatly depend on your ability to see the play around you. 
If you can use contact lenses, you should definitely wear them over glasses while playing hockey.
However, if you can afford it, the best long-term option is getting laser eye surgery. 
How Many NHL Players Wear Contacts?
During the 2009-10 season, Michael Peters, O.D.—Team optometrist for the Carolina Hurricanes conducted a survey to find out just how many professional athletes in the big four sports wear contacts.
After receiving survey results from the NHL, NBA, NFL, and MLB, he found that 20.2% of all active NHL players wear contacts.
Who Wears Glasses in the NHL?
There are a large number of NHL players who wear glasses. However, none currently wear them while playing.
Here are some examples of NHL players who wear glasses. During games, they wear contact lenses:
Shea Weber
Marc-Andre Fleury
T.J. Oshie
Ryan Getzlaf
Anze Kopitar
Ben Bishop
Milan Lucic
Kyle Okposo
Conor Sheary
Michael Del Zotto
Can Hockey Goalies Wear Glasses?
Yes, hockey goalies can wear glasses under their mask.
It's a bit riskier than playing out as you're more likely to get a puck to the face, which could damage your glasses.
Glasses can fog up or you could even have a sweat streak down your glasses which could impair your vision, so it's recommended to wear contact lenses instead.
Do Any NHL Players Wear Glasses While Playing?
No, there aren't any current NHL players who wear glasses while playing.
However, about 20% of the league wears contact lenses during games. And, plenty of players who once wore glasses or contact lenses have since got laser eye surgery.
Are There Prescription Visors in Hockey?
Unfortunately, there aren't prescription visors available in hockey—yet. 
However, there's a good chance visor companies could create something like this one day, since some people can't afford laser eye surgery and others are allergic to contact lenses.
For more hockey gear tips and recommendations, check out these guides: How to Remove Hockey Jersey Wrinkles, Bauer vs. CCM Sticks (Everything You Should Know), and 3 Great Hockey Skates for Ankle Support.
Sources
https://www.contactsdirect.com/what-athletes-need-to-know-about-wearing-contacts