When you're joining a hockey league for the first time, there's one critical step you need to take before playing your first game…
Picking your jersey number.
For some people, they don't give it much thought. For others, it's a very important part of the process.
Numbers can mean a lot. And… There are certain numbers you should avoid unless you want to be ridiculed on the ice (including retired hockey numbers).
In this article, we'll cover how you should choose your hockey number—and exactly what numbers you should avoid.
Let's begin.
Here's What Hockey Number You Should Be:
One way to determine your number is by your position. If you're a defenseman, you should pick a number from 2-8. If you're a forward, pick a number from 7-28. If you're a goalie, pick number 30, 31, or 35. It's best to avoid numbers 99, 66, 69, 0, and 00 unless you want to get chirped on the ice.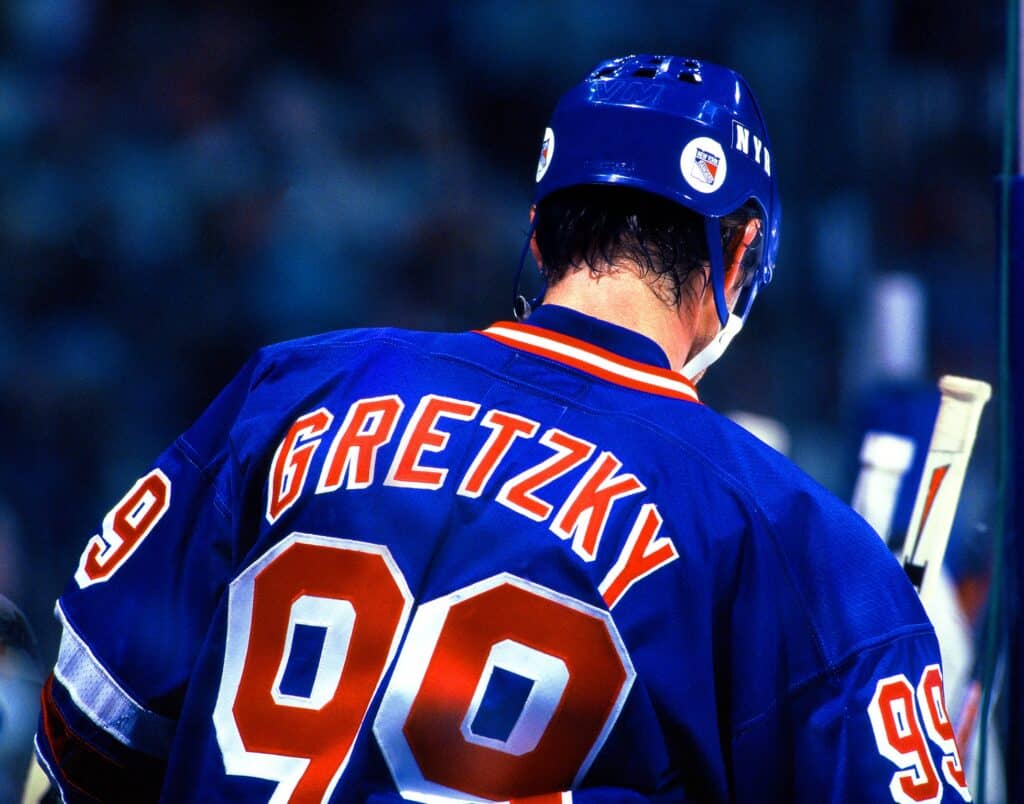 How Do Hockey Players Pick Their Numbers?
As a hockey player, how do you pick your jersey number?
Well, a good place to start is with the boundaries of what's considered "normal".
There's a general framework of unwritten rules for picking numbers based on your position.
Goalies
For instance, the most common number that's been reserved for goalies is number 1.
This is just as common in soccer as it is in hockey.
Goalies also typically wear the highest numbers on the team—usually 29, 30, 31, or 35.
Defense
Up next, we have defense. Numbers 2-8 are typically used by defensemen.
Forwards
Next up, forwards have usually worn numbers 6-19. And, after this—generally speaking—higher numbers have usually been worn by depth players or call-ups from the minor leagues.
In times past, a lower number often implied a level of status or seniority.
Why Do Players Choose Certain Numbers?
If you're playing in an adult beer league hockey, it doesn't really matter what number you wear. A lot of times, players will choose certain numbers based on their favorite player or on other sports they've played.
If a forward in beer league chooses number 1, or a goalie chooses number 5, it would seem a bit strange, but no one would really care.
Every now and then, a player will come in wearing 99, 66, or 69—and they're likely going to get chirped by opponents and teammates. While it's a good way of getting a target on your back to be ridiculed—people will typically quiet down if the player's skill can back up the number.
Why Do Players Choose Certain Numbers in the NHL?
In the NHL, numbers can be very important to players.
But, it's not always easy to get the number you really want.
As is the case with Wayne Gretzky. He didn't always wear 99.
Did you know… Wayne Gretzky didn't wear #99 throughout his entire professional hockey career. During his first game playing for the Edmonton Oilers, the coach made him get rid of the number.

You can hear more of the story in the video clip below at 22:45
For Wayne Gretzky, he wore number 9 growing up since it was Gordie Howe's number. But, when he was 16 and got into the OHA (Ontario Hockey Association), it was taken. His second choice was 16 but that wasn't going to work, so his coach recommended he chooses "two nines". So Gretzky ended up with 99 from age 16 onwards.
You can hear a bit more of the story in this Spittin' Chiclets Interview with Gretzky (the story starts at 18:49):
The number 19 has been a popular number among number one centers and captains—with players like Joe Sakic, Steve Yzerman, Nicklas Backstrom and Jonathan Toews wearing it.
John Tavares and Steven Stamkos also wore 19 growing up but it wasn't available so they reversed it to get 91.
One of the most historical moments concerning a jersey number in NHL history is when Ray Borque took on number 77.
Phil Esposito's number 77 was retired from the Bruins during Ray Borques tenure. Borque was currently wearing number 7 so out of respect for Esposito, he switched his number at the ceremony. It was an honor to Esposito since Borque wouldn't have had to switch his number until he left the Bruins.
Here's a video showing the dramatic jersey reveal at Esposito's jersey retirement ceremony:
For some NHL players, they honestly don't care what number they wear.
For instance, Duncan Keith wears number 2 because it was simply hanging up in his locker room when he reached the minor leagues.
Nate Schmidt was given the number 88 when he joined the Washington Capitals. He didn't like the number because it was too high, but it grew on him so he kept wearing it with the Canucks, the Golden Knights, and the Jets.
NHL rookies typically aren't given much choice when it comes to numbers—and they're usually given a higher number that they wouldn't have otherwise picked.
Another popular way of picking your jersey number is by picking your birth year. This became a popular trend after Sidney Crosby joined the league.
His famous 87 number was chosen because of his birthdate: August 7, 1987, or (8/7/87).
This trend continued with Patrick Kane wearing 88, Sam Gagner wearing 89, Marcus Johansson wearing 90, Vladimir Tarasenko wearing 91, Gabriel Landeskog wearing 92, Ryan Nugent-Hopkins wearing 93, and so on.
The most famous number in recent years along this trend is, of course, Connor McDavid taking on number 97—which is also his birth year.
What Is the Most Common NHL Number?
The most common NHL number of all time is number 21. It has been worn by 469 NHL players in league history.
The 5 most common numbers after 21 are 22, 20, 18, 15, and 23.
What Numbers Should You Never Wear as a Hockey Player?
There are certain unwritten rules about numbers you shouldn't wear as a hockey player.
The most obvious number you shouldn't wear is number 99—Wayne Gretzky's number.
It's the only player-specific number that has been retired by the NHL. And, if you choose to wear it in your league, prepare to be ridiculed.
Here are a few more numbers you should try to avoid unless you want to be the target for unnecessary chirping from opponents (and teammates):
66
69
0
00
Any 3 digit number
8 (if you wear a tinted or reflective visor)
Want to know what other jersey numbers have been retired in the NHL? Make sure you check out this blog post I wrote listing every single retired number in the NHL!
Why Is 91 a Popular Hockey Number?
One of the most popular hockey numbers currently in the NHL is number 91.
This number is worn by stars John Tavares, Steven Stamkos, and Vladimir Tarasenko, among many others.
These 3 stars popularized this number when they joined the league…
But—why do they wear it?
All 3 have specific reasons for using it.
Vladimir Tarasenko chose it since it's his birth year—1991.
For John Tavares and Steven Stamkos, the number wasn't their first choice. They both wore number 19 growing up.
But, when 19 wasn't available for either of them, they opted into wearing 91.
Is 13 a Good Hockey Number?
Generally speaking, 13 isn't a very popular hockey number. One of the main reasons is because 13 is considered "unlucky" in popular culture—not just hockey.
But, there have been a few incredible NHL players who have pulled off number 13.
One of the most famous NHL players who has worn it is the Magic Man—Pavel Datsyuk.

Mats Sundin is another NHL star who has worn 13 and done it well.
What Is the Least Worn Number in the NHL?
You'd think number 99 would be the least worn number in the NHL due to Gretzky.
But, it's not the only number that's retired from the league.
While no one is legally allowed to wear 99 on for any team..
It's not the least worn number of all time.
That number would be 0.
Both 0 and 00 are illegal numbers in the NHL. Just like 99, no one is allowed to wear them.
Here are a few of the least worn numbers in league history:
Who Wore Number 88 In Hockey?
Number 88 is one of the fringe numbers that is borderline controversial to wear.
The player that comes to mind when thinking of 88 is Eric Lindros.
He wore the number and wore it well.
Since Lindros, there haven't been many players who have had the courage to wear the number until recently.
That is, until 2007. The most notable 88 today is Patrick Kane.
While some may have seen the number choice as risky, Kane's skill and stardom has certainly lived up to the number. He'll arguably go down as the greatest 88 to wear the number in league history.
There are a few other players who have worn 88 over the years:
David Pastrnak (Forward, Boston Bruins)
William Nylander (Forward, Toronto Maple Leafs)
Brent Burns (Defenseman, San Jose Sharks)
Nate Schmidt (Defenseman, Winnipeg Jets)
Andrei Vasilevskiy (Goalie, Tampa Bay Lightning)
Sources
https://www.nhl.com/news/nhl-who-wore-it-best-number-88/c-316909038