There was a time when Quebec City was one of the biggest hockey cities in the world.
In 1979, they joined the NHL from the WHA alongside the Edmonton Oilers, Hartford Whalers, and Winnipeg Jets.
But… in 1995, things fell apart in Quebec City and the team moved to Denver to become the Colorado Avalanche. 
Salt was rubbed into Quebec City's freshly made wound even more when the new Avalanche team went on to win the Stanley Cup the next year.
So, why doesn't Quebec City have an NHL team? And will they ever get one again?
Keep reading to find out.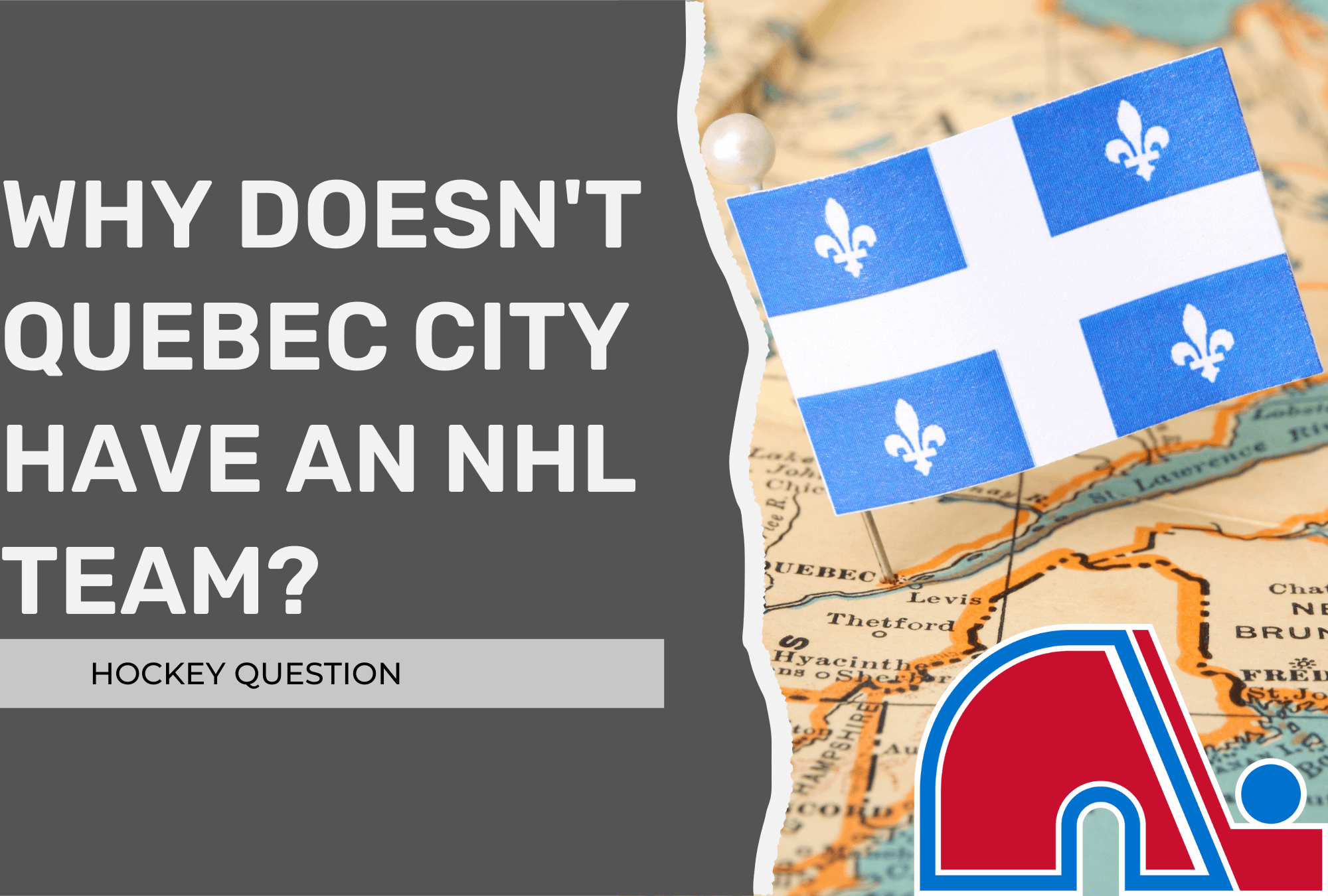 Here's Why Quebec Doesn't Have an NHL Team:
Quebec City doesn't have an NHL team for 3 reasons: 1. Their original team—the Quebec Nordiques originally left because they couldn't afford a modern arena. 2. The NHL wants to expand west, not east (think Seattle and Las Vegas). 3. The NHL doesn't want to relocate any teams.
Why Doesn't Quebec City Have an NHL Team?
Quebec City used to have an NHL Team: the Quebec Nordiques. However, they became the Colorado Avalanche in the 90s and now they have no NHL team.
So, why doesn't the major Canadian city with a metropolitan population of over 800,000 not have an NHL team?
There are 3 main reasons:
1. They Couldn't Afford a Modern Arena
Quebec City had the Quebec Nordiques. But, they moved to Colorado to become the Avalanche because they didn't have a modern-enough arena. And, the Nordiques didn't have a plan to create a new arena. In 1996, they moved to Denver, Colorado and became the Colorado Avalanche.
2. The NHL Wants More Western Teams
In recent years, a few cities made a push to claim a new franchise: including Las Vegas, Seattle, and Quebec City, and a few others.
While Quebec City has a group that submitted a request to launch a new franchise, they were overshadowed by western markets in the United States.
When Las Vegas applied for a team, the only competitor was Quebec City.
But, the NHL was only really interested in moving west, so they chose Las Vegas (among other reasons) as the 31st NHL franchise.
Their next favorite western city was Seattle—so, guess who became the 32nd franchise? You guessed it—The Seattle Kraken.
The NHL is unlikely to create a 33rd franchise unless they also have a 34th lined up to make it an even number. And, it's naturally becoming more unlikely for new teams to be created as the number of total active franchises gets higher.
3. The NHL Doesn't Want to Relocate Teams
Without a proper expansion plan, the only other option for Quebec City would be for a current NHL team to be relocated to the city.
This would be a similar situation to the new Winnipeg Jets' franchise when the Atlanta Thrashers moved to Winnipeg back in 2011.
While there are big talks in recent years regarding the Arizona Coyotes (lack of popularity and losing revenue)… The NHL doesn't want to move anymore NHL teams for a variety of reasons. And, even if they did decide to move a team like Arizona, it would still be unlikely that they'd move east.
They would probably be more likely to move to somewhere like Houston, Portland, or Kansas City.
Will Quebec City Ever Get an NHL Team?
Currently, the odds are against Quebec City getting an NHL team again.
A few years ago (before Seattle and Vegas) hopped on the scene, they had higher chances. In fact, Quebec City was the only other city besides Las Vegas who put in a bid for the next franchise just a few years ago.
But, now with 32 NHL teams, the league is packed pretty tight.
While there are a few major cities that could take center stage for a new NHL team, Quebec still has a long way to go.
The reason Quebec City lost the Nordiques back in 1995 was because they were playing in an old arena. The owner, Marcel Aubut asked the provincial government to help fund a new one and they denied him.
Fast-forward to modern times and Quebec City has a modern facility built to NHL standards.
The biggest thing holding Quebec back is that its population is only about 800,000 (in the metropolitan area).
But, you wouldn't need to do much convincing to sell hockey to the Québecois.
So, will the Quebec Nordiques ever come back? Or will there be any other team in Quebec City again?
The most probable situation for Quebec City to get an NHL team again would likely happen as a relocation, not an expansion.
In other words, they probably won't be created as a brand new team—a current NHL team will have to move there.
Why Did the Quebec Nordiques Leave Quebec?
There are a few reasons why the Quebec Nordiques left Quebec City.
The main reason is because their arena was very outdated and they needed to build a new one. But, the owner didn't have enough money and the provincial government in Quebec wouldn't help fund one.
At the time, in 1995, the exchange rate between Canada (CAD) and the US (USD) was brutal towards Canadian teams. The NHL paid their players in USD, but their revenues came in CAD.
Larger Canadian markets like Toronto, Edmonton, Calgary, Vancouver, and Ottawa (only 3 years old) were able to survive. But, it was so bad that it drove out the Nordiques from Quebec in 1995 and The Winnipeg Jets from Winnipeg in 1996.
Then, the city of Denver, Colorado built the Pepsi Center for the Nuggets (NBA) and for a future NHL team. It was a relatively simple answer for the franchise to move to Colorado of all places.
What NHL Team(s) Do People from Quebec City Cheer For?
With the Nordiques out of the picture for almost 30 years, what NHL team does Quebec City cheer for?
The top two teams would be the Colorado Avalanche and the Boston Bruins.
Most people outside Quebec would likely assume it would be the Montreal Canadiens.
And, while there is certainly a fanbase in Quebec City, it's relatively small.
Most former diehard Nordique fans despise the Canadiens de Montreal.
Most Quebec City hockey fans will typically cheer for any team that the Canadiens don't like—such as the Boston Bruins.
But, there is still a minority of old Nordique fans who will cheer for the modern Nordiques: the Colorado Avalanche.
What's the Next City to Get an NHL Team?
With the recent expansion of the NHL into Las Vegas and Seattle, talks about what city's next are top of hockey conversation amongst fans.
So, what are the cities that are most likely to get NHL teams?
Houston, Texas
Quebec City, Quebec
Kansas City, Missouri
Portland, Oregon
Milwaukee, Wisconsin
Keep in mind, it's unlikely that the NHL will expand beyond 32 teams anytime soon.
However, it's not out of the question that a current NHL team will relocate.
It's certainly possible that one of these cities could be the face of the next NHL franchise.
What Canadian Province Doesn't Have an NHL Team?
There are actually a few Canadian Provinces that don't have an NHL team:
Saskatchewan
New Brunswick
Nova Scotia
Newfoundland & Labrador
Prince Edward Island
And, all 3 territories also don't have an NHL team:
Yukon
Northwest Territories
Nunavut
There are only five Canadian provinces with an NHL team are British Columbia, Alberta, Manitoba, Quebec, and Ontario.
What NHL Team Played in Quebec City?
The Quebec Nordiques played in Quebec City as a part of the National Hockey League between 1979 and 1995.
In 1995, they moved to Denver to become the Colorado Avalanche where they play to the present day.
Want to know more about the top hockey cities in the world? Check out our other popular blog posts: What Hockey Team Is in Florida, What Hockey Team Is in Texas, and What Hockey Team Is in California.
Sources
https://www.nhl.com/news/nhl-expansion-history/c-281005106
https://thehockeynews.com/news/is-there-hope-for-an-nhl-return-to-quebec