If you've ever tried to film ice hockey, you know that it isn't a 'point-and-shoot' kind of sport.
It's way harder than it looks on TV. 
If you want to get the right shots, then you'll need the right gear.
Thankfully, there are a bunch of different hockey camera options available today with different budgets so you can shoot hockey games well.
In this article, we'll cover the 3 best video cameras for filming ice hockey in 2023.
Whether you're a photographer or videographer who's looking to start shooting hockey games… or you're a dedicated parent who wants to capture your son or daughter's special moments on the ice… we've got you covered.
Let's begin.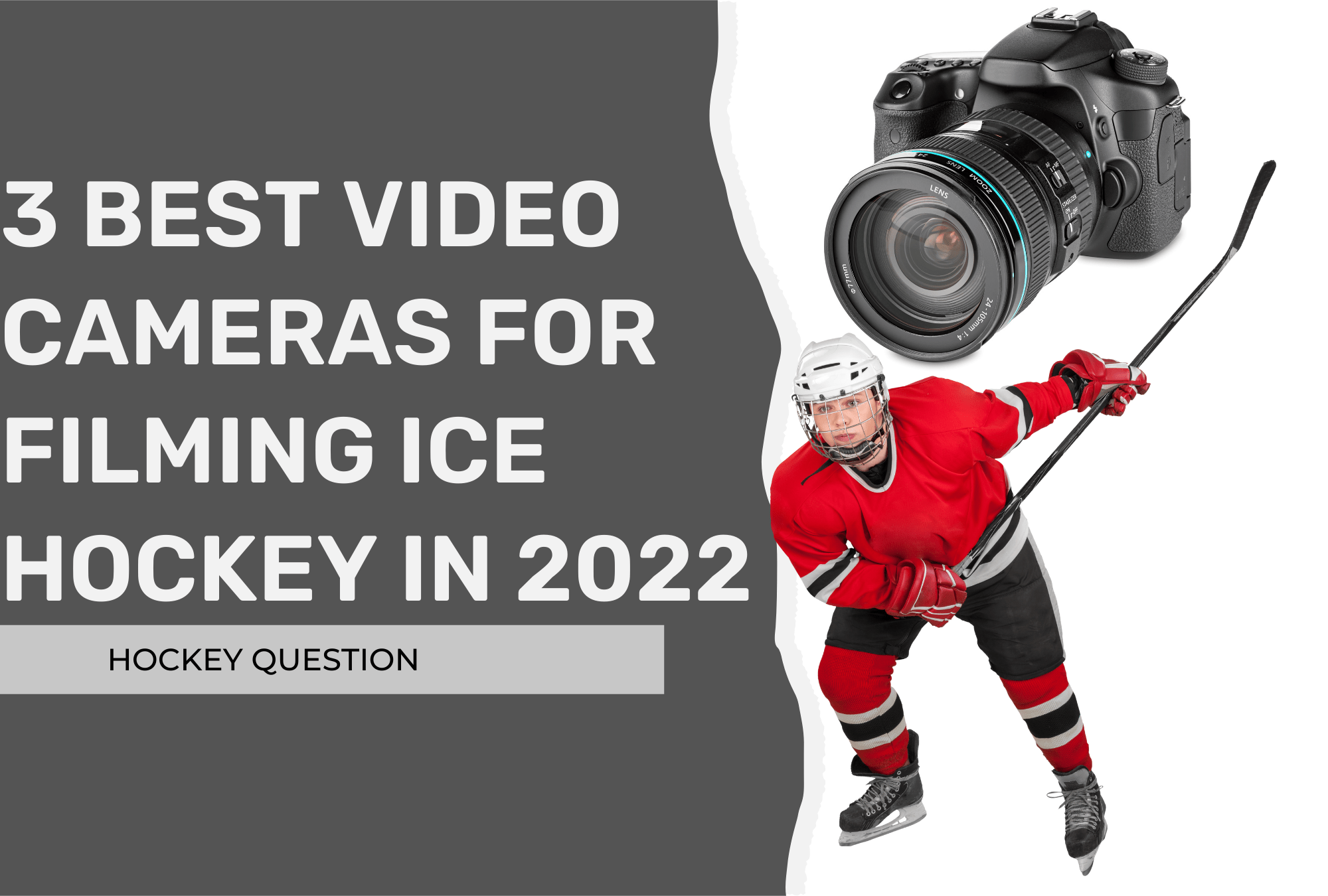 The Sony a6600 is the best video camera for ice hockey overall in 2023.
If you're wanting a great camera for filming hockey, and you're okay with spending a bit more, then this is your best option available.
Pros
Great low-light performance (perfect for indoor games)
Fast autofocus with real-time tracking
No record time limits
Great battery life
Headphone output to help monitor sound
5-axis in-body image stabilization
Feels great in your hand
Cons
Not the most budget-friendly camera
Records in 8-bit (not as good as 10-bit)
Somewhat of a rolling shutter issue
It crops a bit when you shoot in 4K
Sony is one of the best camera brands in the world. And, they don't disappoint with the a6600 model.
The Sony a6600 is a mirrorless, APS-C (Advanced Photo System type-C) camera. 
It features 4K (UHD) that films at 30 frames per second (30 fps). You can also film at 1080p at a very fast 120 fps. There isn't a time limit on your recordings, which is really handy for longer hockey games that go on up to 3 hours.
Your footage is technically only limited by the memory card you put into the camera.
For the battery, it features a 2280 mAh battery which is a really big step up from the lower model 6400 which offers a 1020 mAh. The 6400 gives you about an hour of continuous 4K. On the other hand, you should be able to film in 4k for about 2 hours straight if you wanted with the a6600.
Since the battery is larger in this model, it makes the grip thicker as well which gives you a much better feel in your hand.
The camera's ISO range is 100 to 32,000. Plus, you can extend it to 50 to 102,400. When you pair this with its five-axis in-camera stabilization, it helps make this camera film really well in low-light conditions (as is the case with most hockey rinks).
In most low-light situations, autofocus just doesn't seem to work out so well with other cameras as they have trouble finding the target.
But, with the Sony a6600, you get impressive contrast-detection and phase-detection—allowing for nice low-light performance to help you track and lock onto moving objects like a skater flying down the wing or a puck getting shot out against the boards.
Our second option for best video camera for ice hockey is the Fujifilm X-T4. 
If you're wanting the best possible quality of film for low light filming (like ice hockey) , then this is your best choice.
Pros
Incredible quality of picture—4k 60 FPS in 10-bit
16 different film modes for unique footage
Wide range of resolutions and frame rates
Tons of compatible Fuji-made lenses (and lenses from other brands)
Nice feel in your hands
Great value for the price
Flip screen that shows in all directions
Cons
A bit expensive
Not the best battery
Only 20 minute recording time when shooting 4k 60 FPS
Autofocus isn't quite as good as Sony
Camera can start to overheat a bit when shooting a lot in 4k 60 FPS
If you're wanting to get super high quality film for hockey games, but don't need super long footage, then the Fujifilm X-T4 might be the best option out there.
The X-T4 is an APS-C (like the Sony a6600) that is a nice upgrade from the previous X-T3 model. It has a better battery life and now includes in-body image stabilization.
The biggest advantage to using this Fujifilm camera comes down to the shear image quality. The resolutions and frame rates are amazing for the price of the camera.
For 4K filming, it can shoot 60 frames per second (FPS) at 10-bit. This is where it beats out the Sony cameras as they can only do 8-bit.
In terms of frame rate, it can get up to a whopping 240 FPS at 1080. Compared to the a6600 of 120, it doubles the frames per second giving a very smooth shot.
In terms of ergonomics, the XT-4 is similar to other classic Fujifilm cameras which means you get a variety of dials and buttons you can customize how you like. This makes it a lot easier than having to flip through a menu system to find exactly what you need to shoot your hockey games.
Perhaps the coolest thing about the Fujifilm XT-4 is that it includes 16 different film simulation modes. Some popular ones are included like Velvia, Provia, and Eterna. These film modes are awesome since they allow you to get really unique footage without having to do a bunch of altering with video editing software.
If you're wanting a top-notch camera to film ice hockey games, but you'd prefer to get something more affordable, then our favorite option is the Sony a6100.
It has a ton of similar features as the a6600, but at a much more budget-friendly price.
Pros
Great for low light filming (indoor rinks)
Great autofocus
Tons of lens choices
Compact and light
Compact and light
Includes 4k filming
USB charging
Cons
Not built as well as the a6600
4k video may show some wobble
Not a great battery life
Charging port not USB-C
If you're wanting to start filming hockey games, you should definitely get a mirrorless camera. 
When you're looking for an affordable mirrorless option for low light, then the Sony a6100 is the best choice.
This camera is a 24MP APS-C camera which is great for beginners or for those who wouldn't necessarily call themselves photographers. 
It includes a great autofocus system which makes the camera very easy to use.
One of the biggest differences from the a6100 from the a6600 is the battery life. The a6100 features a 1020 mAh battery. 
So, while you can get about 2 hours of 4k filming with the top-tier model (a6600), the a6100 will only get you about an hour.
However, the filming quality is pretty similar to the a6600. It has a large APSC sensor that's identical to the a6600.
This means you'll still get really good low light performance and impressive autofocus which is needed for indoor sports like ice hockey.
Another upside to this camera is that it's great for live streaming.
If you're wanting to film hockey games for YouTube or Facebook live, and you'll be able to connect the camera to your computer during games, then the a6100 is a great choice.
Sony cameras come with a free streaming software called "Imaging Edge Webcam". This lets you easily set up live streaming options with your Sony camera.
The biggest downside is that this camera doesn't have internal stabilization, so you'll have to pick up a lens for the camera.
However, for the price, the Sony a6100 is a great all-around camera to film ice hockey. Thanks to its impressive autofocus system and low-light capabilities, you'll be able to film hockey games with ease.
6 Tips for Filming Ice Hockey Games
If you're looking to start filming ice hockey games, you may have a few questions… Like what's the best way to film hockey games?
Well, whether you're a photographer, videographer with camera experience… 
Or, you're simply a hockey parent who doesn't know the first thing about filming…
Here are a few tips you should keep in mind when filming ice hockey:
1. Prioritize a Mirrorless Camera for Low-Light
Ice hockey is typically played indoors. However, it's sometimes played outdoors as well.
Since you'll most likely be filming indoors, the lighting can be tricky. Indoor sports typically means low lighting which is much harder to film properly.
Mirrorless cameras are the best option because of their low light filming ability.
2. Prioritize Autofocus & Autofocus Tracking
Hockey is extremely fast-paced. 
Unfortunately, this makes it much harder to film.
You'll want to make sure your camera has a really good autofocus ability. Plus, if you can get autofocus tracking down pat, you'll put yourself in a much better position to film hockey games well.
3. Learn to Anticipate Where the Game Is Going
Hockey is very fast paced. The best overall tip for filming is to learn to anticipate where the game is going.
This means you need to learn the game. The best way is to learn to follow the puck. Once you can follow the puck, you can start to follow the game better. I wrote an article on how you can better follow the game of hockey here that you won't want to miss!
You should keep space 2/3 ahead of the puck. 
Don't film the center of the action. Instead, keep it on 1/3 of the frame.
Zoom a bit so you have room for action, but don't keep a ton of dead space on each side.
4. Don't Pan During a Fast Shot or Pass
You don't need to quickly pan the camera across when someone takes a shot or makes a fast and long pass. 
Instead, keep the frame still during super fast action. Pan when a player is skating.
Only zoom out if you need to follow fast action. Try this before you attempt to pan.
5. Use the Restricted Area for Photographers If You Can
If you're going to be filming at a hockey game where tickets are sold, there is typically a restricted area for photographers.
If you're hired or volunteering to take photos for a team, you'll easily be able to get access. Just make sure to inform the hockey game organizers ahead of time. Someone from the team can likely do this for you.
However, if you're just filming your kid's game where there aren't tickets sold, you could likely just roam around the arena freely to shoot where you want.
The best place for taking photos of individual players is beside the rink in the corner. Let your camera almost touch the plexiglass.
However, if you're not wanting to take photos and just want to film the game, you can do so pretty easily from the stands.
6. Try a Camcorder If You're FIilming for Hours Continously
Need to film for very long periods of time? 
You may want to get a camcorder instead. This is because they have incredible battery life and are an all-in-one system so you don't need to get an additional lens. They can film for hours and hours on end.
However' these have much smaller sensors which means they won't be nearly as good as DSLR cameras in low light situations so the quality will take a hit.
Sources
https://www.sony.com/ug/electronics/interchangeable-lens-cameras/ilce-6600