Are you thinking of playing ice hockey?
Maybe you're planning on heading out to your first drop in or pick up game.
Or… you've recently joined a team and you'll be playing in a league.
So… what's the easiest position to play?
Well, in this article, we'll share with you what the easiest hockey position is. Plus, you'll learn the strengths and weaknesses of each position (including which one's the hardest) so you can figure out which one is right for you.
Let's dive right in.
Here's What the Easiest Position Is in Hockey:
The easiest hockey position is a winger. It requires the fewest additional skills, unlike other positions. You should play left wing if you're left-handed and right wing if you're right-handed.
What's the Hardest Position in Hockey?
The hardest position to play in hockey is the goaltender.
While some may argue that center is the hardest to play since you have to play really good offensively and defensively and take face offs, it really is a whole different beast playing as a goalie.
Goalies need to be extremely agile, flexible, and have cat-like reflexes.
These are a totally different set of skills than playing as a "regular player" as a forward or defenseman.
But, one of the hardest parts about playing goalie isn't physical at all. It's mental.
It's one thing if you're having an off-night as a player. Maybe you can hide out a bit within the team.
But… if you have a bad night as a goalie, all eyes are on you.
It's tough to be a goalie because when you have a good night, it's almost expected that you perform at a high level every night. But… When you have a good night as a player and get a few points, it's highly celebrated.
Goalies need to have thick skin both physically and metaphorically in order to compete at a high level.
What Do Forwards Do in Hockey?
In hockey, a forward is a player whose main responsibility is to drive the offense by scoring goals and getting assists.
Forwards typically lead the rush from the defensive zone, through the neutral zone, and into the offensive zone in order to attack the opponent's net.
Forwards usually stay in three different lanes (left, middle, right) as they move up the ice to make a play happen on the other team's net.
What's the Best Hockey Position for Scoring?
It's no surprise that if you want to score more goals as a hockey player, you'll have to play as a forward.
However, which forward position scores the most goals?
Well, let's take a quick look at the top 20 goal scorers in the NHL during the 2021-22 season:
| | | |
| --- | --- | --- |
| Player | Goals | Position |
| 1. Auston Matthews | 60 | C |
| 2. Leon Draisaitl | 55 | C |
| 3. Chris Kreider | 52 | LW |
| 4. Alex Ovechkin | 50 | LW |
| 5. Kirill Kaprizov | 47 | LW |
| 6. Kyle Connor | 47 | LW |
| 7. Connor McDavid | 44 | C |
| 8. Matt Duchene | 43 | C |
| 9. Matthew Tkachuk | 42 | LW |
| 10. Elias Lindholm | 42 | C |
| 11. Filip Forsberg | 42 | LW |
| 12. Steven Stamkos | 42 | C |
| 13. Jason Robertson | 41 | LW |
| 14. Alex DeBrincat | 41 | RW |
| 15. David Pastrnak | 40 | RW |
| 16. Jake Guentzel | 40 | LW |
| 17. Johnny Gaudreau | 40 | LW |
| 18. Aleksander Barkov | 39 | C |
| 19. Tage Thompson | 38 | RW |
| 20. Troy Terry | 37 | RW |
Do you notice anything interesting?
Well, the majority of the goalscorers are wingers. In fact, 13 of the top 20 goal scorers in the NHL during the 2021-22 season played on the wing.
Wingers are typically known for being high-scorers.
Part of the reason wingers usually score more goals than centers is because centermen have more defensive responsibility than wingers.
They have to follow the puck hard back on defense and act as "third defensemen" in the defensive zone.
On the other hand, left and right wingers typically play higher up which means they're more likely to be in position to attack the opponent's net quicker than a centerman.
Keep in mind, this doesn't mean wingers will be the best scorers in the NHL. If you look at the top 20 list again, look who's on top…
Auston Matthews—a centerman… With 60 goals!
And, in second, we have Leon Draisaitl not too far behind him with 55.
This list shows us that wingers are typically higher scorers.
But, it also shows something else. Can you figure it out?
Here it is: there are more left wingers on the list than right wingers.
In fact, there are 9 left wingers in the top 20 and only 4 right wingers.
Now, this doesn't necessarily mean left wingers are better scorers. One factor is that there are simply more left-handed shots in the NHL.
According to this Pure Hockey article, 62% of NHL players shoot left, rather than right.
So, how can we sum this up?
The best hockey position you could be to score a lot of goals is to be a left winger with a left-handed shot.
What's the Best Hockey Position?
It's really difficult to answer what the best hockey position is as it's very subjective.
You will get a different answer from almost everyone.
However, another angle to answer the question is by looking at what the most important hockey position is.
While some may say goalies are the most important, I think most hockey players and fans would agree that the greatest hockey player of all time isn't a goalie.
Wayne Gretzky was a forward. In fact, he played center.
The other "best players of all time" would be made up of Mario Lemieux, Gordie Howe, and Jaromir Jagr.
What's interesting is they all played the same position: center.
The centerman is arguably the most important ice hockey position. The reason is because this player is relied on the most throughout their play on the ice.
They have to be up on the attack in the offensive zone to score goals and make plays happen. But, they also have to act as "the third defenseman" in their own zone. They also are the ones taking the face off.
The top-line centerman is oftentimes the biggest difference maker on the ice, and many would argue is the best position to play since it's the most versatile.
What Are the 7 Positions in Hockey?
There aren't technically 7 positions in hockey. There are 6 (unless you're counting the coach as well).
The positions in ice hockey are 3 categories: forwards, defense, and goalies.
Forwards are made up of: left wing, center, right wing.
Defense is made up of: left defenseman, right defenseman.
And, of course, there's the goalie.
Curious where each position should play on the ice? Check out this helpful video below!
What Are All the Hockey Positions?
In hockey, there are 6 positions:
1. Center
2. Left Wing
3. Right Wing
4. Left Defense
5. Right Defense
6. Goalie
The forwards are composed of a centerman, and two wingers (left wing and right wing). They usually form a single line of three who will play together for the entire game.
The left and right defenseman work similarly. They'll typically pair up and play together for an entire game.
And, of course, there's the goalie. They'll play alone, of course!
What Does a Center Do?
A center arguably has the second hardest job behind a goalie.
The center position is the most critical position to the play that happens between the goalies.
The game starts with centers at the forefront: in position to take the face off.
This is when a puck is dropped between the two players to start the game (or restart play).
Centers are always at the "center" of the game.
They take the face offs, they typically lead the puck out of the defensive zone, they move the puck forward through the offensive zone, and they come back defensively with the defensemen to take the puck away from opposing forwards.
What Does a Winger Do?
Beside every center are two wingers: left wing and right wing.
Left wingers usually shoot left and right wingers usually shoot right. But, this isn't always the case. Sometimes players play on the "off-wing" which means the opposite to what their hand is (i.e. left handed player on the right wing).
Wingers assist the centerman to move the puck out of their zone to "rush" up the ice into the offensive zone.
They're deployed to attack the opponent's net and create plays to score goals.
Wingers will typically also go hard on the forecheck.
This is when the other team has the puck in their zone. Wingers will put pressure on the puck in order to take it away and create a quick scoring chance.
What Does a Defenseman Do?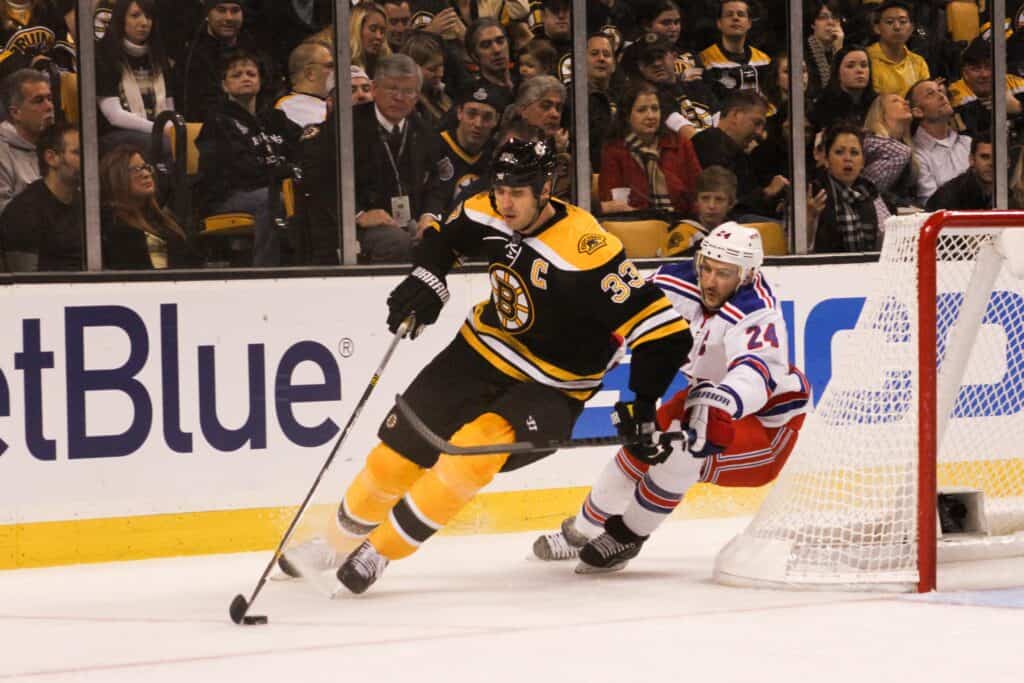 A defenseman is a goalies best friend… Or worst nightmare.
Made up of a left defenseman and right defenseman, they usually play on the side with the same hand (i.e. left handed plays left defense).
Defenseman duties include blocking shots on defense and starting the breakout in their own zone by passing it up the ice to the forwards.
However, defensemen are also there to assist the forwards in the offensive zone. They create plays, cycle the puck to forwards, and take shots from "the point". This is where defensemen hang out along the blue line in the offensive zone.
Defensemen are known for taking slap shots on the net. They're typically bigger, stronger, and physical players who can also check opponents and stop them from attacking their net in the defensive zone.
What Does a Goalie Do?
Goalies are a different breed.
These are strong, agile, mobile, flexible, kung-fu-like animals whose main job is to stand in front of 70 mile per hour slap shots and stop them… with their body.
This is easily the hardest position to play in hockey.
So, what exactly does a goalie do?
The main point is to stop the puck from crossing their goal line.
However, there's much more to the position than just preventing the puck from going in the net.
Goalies need to be very agile. They have to have great rebound control. They need to be able to stop rebounds quickly. But, they also need to work on preventing rebounds in the first place.
They have to have incredible reflexes in order to stop the puck. But, they also have to carry great puck-handling skills.
It's incredibly challenging, but important for goalies to be able to make a save and then quickly pass the puck to their teammate to get it out of the defensive zone and up ice.
Goalies need to be able to make hundreds of split-second decisions in a game. They need to have lightning-like reflexes to know whether they should go down into the butterfly position, stop the puck, freeze it for a second, hand it to a defenseman with their gloves on the ice, or "sauce" it up the ice to clear the zone.
What Hockey Position Should I Play?
Are you wondering what hockey position you should play?
Well, if you're new to the game, then your best bet is to start out on the wing.
Are you left handed? Go left wing.
Are you right handed? Go right wing.
Goalie is the hardest position to play, so you probably don't want to try it out unless you've played goalie in other sports and like the challenge.
Center is a harder position as you have to really follow the puck, be one of the best skaters, and play very good offensively and defensively.
You probably don't want to go defense right away as you have to be able to skate backwards really well. You also need to be able to transition forwards and backwards more than anyone else.
As a beginner, you're best suited to start out on the left or right wing depending on your stick hand. From there, you may want to try center, and then defense as your skating improves.
P.S. Looking for more answers to the most common hockey questions? Be sure to check out our other popular blog posts: How Do Shifts Work in Hockey, Is Ice Hockey Hard to Learn? (Plus How to Speed Up the Process), and Why Are NHL Players Paid Less Than NFL, NBA, and MLB?
Sources
https://www.nhl.com/kraken/news/hockey-positions-explained/c-323011708
https://www.sportsnet.ca/hockey/hockey-101-breaking-down-the-positions/